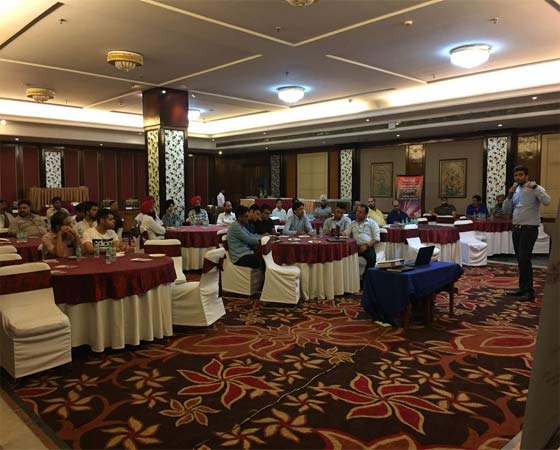 Rashi Peripherals Bets Big on Upcountry Markets for Business Expansion
Rashi Peripherals recently conducted 'Partner Connect' program in association with SanDisk. The objective of the multi-city event organized in Jammu, Ludhiana, Udaipur, Bhilwara and others was to increase brand awareness and facilitate relationship building with tier 3 and tier 4 IT & mobility channel partners.
As the tier 1 markets have largely saturated, the B, C and D class cities are seen as the next growth engine for the IT industry. Rashi Peripherals is bullish over the growth prospects in the upcountry market and is building its robust network in the small cities through its flagship Partner Connect program. A brainchild of Rashi Peripherals, Partner Connect is a unique platform which connects brands with target channel partners and helps them increase visibility in the unexplored markets.
The company showcased latest products in the category of USB, MicroSD, Camera Cards and Card Readers to prospective North channel partners. Apart from product display, partners were also given a hands-on product training to enhance their technical knowledge and educate them on product positioning in the market.
Commenting on the event, Mr. Amit Jain, Business Manager, Rashi Peripherals said, "Partner Connect is an excellent platform to increase brand visibility in tier 3 and tier 4 cities. We displayed several latest product offerings from SanDisk and also provided training to channel partners. We educated them on sales and marketing plans, which will definitely help them earn maximum ROI. We will continue to leverage Partner Connect program to strengthen our presence in the upcountry market."
The four city event received an overwhelming response from channel partners. More than 150 partners attended the training program and gained new insights into the current market trends.
Commenting on the event, Mr. Vineet Gupta, proprietor of Jammu based Spaceera Computers said, "The event was very informative and I learned about new product line from SanDisk. I was pretty impressed with Youtube Go cards with pre-loaded content. Rashi team also talked about their brand portfolio and distribution ecosystem. Overall it was a good event in terms of knowledge enhancement."
Mr. Puneet Sagar, owner of Ludhiana based Sagar International said, "The product training session was excellent and we got to learn about the new products and how to position them in the market. I thank team Rashi for organizing such a wonderful event."