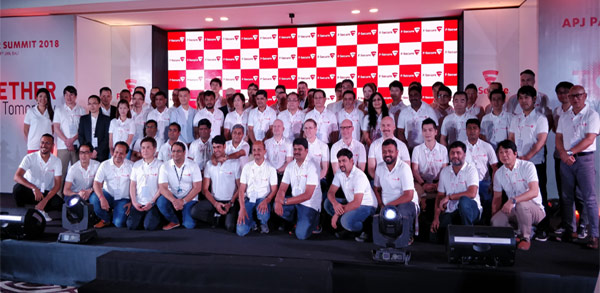 F-Secure organizes APJ Partner Summit 2018 in Bali
F-Secure, the global cyber security leader, organized a three-day 'APJ Partner Summit' from 22nd January to 24th January, 2018 for more than 50 channel partners hailing from India, South East Asia, Australia and Japan. The event was held in Holiday Inn Resort, Baruna Bali, and witnessed the participation of the global leadership team of F-secure. The vision behind the summit was to recognize, appreciate and underline the significant contributions of F-Secure's valued channel partners while apprising them of the developments in the emerging threat landscape.
The summit took place in the presence of F-Secure's top management who addressed the channel partners on a variety of subjects that would help them better understand the dynamics of the cyber security realm, its complex demands and how F-Secure's products are perfectly poised to cater to this dynamic space. The key note speakers included Mr. Samu Konttinen, President & CEO, F-Secure Group, Mr. Mikko Hypponen, Chief Research Officer, Mr. Jyrki Rosenberg, EVP, Corporate Security Business Unit and Mr. Jimmy Ruokolainen, Vice President, Product Management at F-Secure.
Amit Nath, Head of Asia Pacific (Corporate Business), F-Secure said, "Our global success is incomplete without the contribution of regional channel partners in their respective countries, who have constantly worked in tandem with us to ensure F-Secure's top-of-the-line security products are extended seamlessly to our end-users. Meanwhile, they've also served as an active communication link, giving us first hand inputs of customers' requirements, for further evolving our product offerings and making them even more relevant in today's bourgeoning and complex business landscape. This summit is a token of appreciation for our channel partners' unrelenting and extraordinary efforts that have built the truly global and prominent identity enjoyed by F-Secure today."
In the APAC region, India, South East Asia, and Japan are amongst the fastest growing markets for F-Secure. The company further envisions building on its leading position as a cybersecurity player especially in India, with the nation's digitization drive gathering momentum. F-Secure aims to double its revenues every three years in the country.