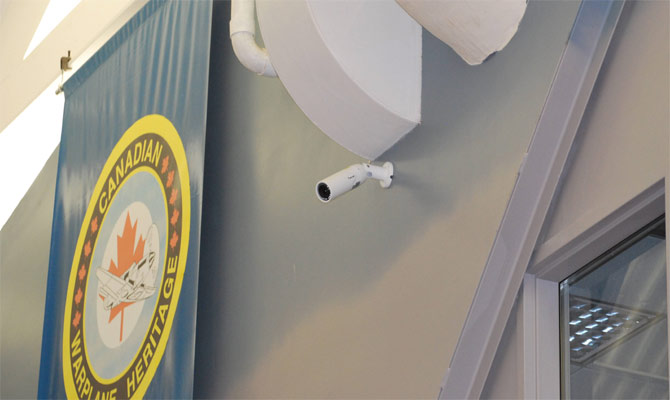 VIVOTEK tackles dynamic challenges at Canadian Warplane Heritage Museum successfully
"It is far better to face bullets than to be killed at home by a bomb", read out a World War I poster on display at the Canadian Warplane Heritage Museum. The poster gives its visitors a glimpse of how security, from outside and from within, had been an urgent need then, and how little things have changed as more of the same is required even today, albeit in a different form. But as we near the centennial celebrations of the iconic war, VIVOTEK, the global leader in surveillance solutions, has ensured that at least the glorious remnants of the era are safe and secured in the museum as they once made their homeland.
In a bid to enhance its security, the heritage museum has deployed VIVOTEK's sophisticated surveillance systems to effectively counter the modern-day challenges, securing the memorabilia from acts of theft, vandalism and pilferage. The deployment has been done through VIVOTEK's Hamilton (Ontario) channel partner and regional leader in surveillance and security systems, A. S. Security & Surveillance, Inc.
Securing a space, however, is not an easy task, particularly if it is of such a massive size as the Canadian Warplane Heritage Museum. The spectacular museum, for instance, is home to about 50 aircrafts, an extensive aviation gallery, and an exhibit gallery, besides a 400-vehicle parking lot, constantly moving crowd, and specific regions with contrasting lights and blind spots which could emerge as a soft target for the masked mob that has been lately defacing properties in Hamilton.
VIVOTEK has tackled the dynamic challenges presented by the museum by tightening the security framework with sixteen network cameras. This includes the deployment of IB836B-HT bullet cameras having 2-megapixel Full HD sensor (with 30-meter ranged built-in IR illuminators) that leverage WDR and SNV technologies for high contrast and low light environments. These devices, being rated with IP66 and IK10 standards, can also withstand rough weather and direct impact on them. Its ND9541 network video recorder, on the other hand, is a H.265 (high-efficiency video coding) recorder that comes equipped for up to 32-channel network and 4 hard disk drives for efficient and adequate storage. The updated surveillance system at the museum also includes VivoCam Layer 2+ Managed PoE Switch (AW-GEV-264-370) to provide uninterrupted power backup for all cameras. The building structure also required range extension through PoE extender AP-FXC-0210 for two cameras located indoor using the daisy-chain installation.
Commenting on the surveillance blueprint Anthony Stayrer, the Director of A.S. Security & Surveillance, said, "In our almost a decade-long reselling experience and being voted the #1 security company in Hamilton, we have never experienced the superlative quality and functionality of the equipment deployed and the level of sophistication extended by VIVOTEK in terms of service delivery. What serves as an icing on the cake is being able to complete the entire surveillance enablement operations within the tight 48-hour constraint that we had to adhere. Our collaboration with VIVOTEK has, in its truest essence, established a new benchmark in establishment security and we look forward to more such collaborations in the future."
VIVOTEK Canada tech support and representative, Oliver David further stated, "We are delighted that our business associate and the end-customer are both deeply contented with our surveillance offerings. Our tie-up with A. S. Security & Surveillance has been effectual in delivering the desired result and we are glad to have the brand onboard as our gold partner."
Sanjeev Gulati, Country Manager – India & SAARC, VIVOTEK said, "Establishing surveillance and security framework at Canadian Warplane Heritage Museum is an embodiment of the expertise that VIVOTEK holds in such deployments. Today, much like Canada, India also faces a unique challenge. Multiple statues are being vandalized throughout the country. We believe that preserving our legacy is an integral factor in building the nation and India needs it more right now than it has ever before. As various countries are preserving their national heritage using advanced surveillance systems, such systems can also help our center and state governments in ensuring better security and surveillance in public spaces."