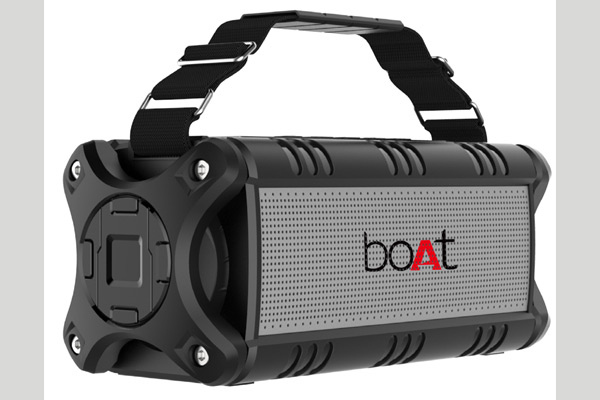 boAt launches dynamite speaker Stone 1400
boAt Lifestyle has come with yet another out of the box inspirational design. boAt launches the dynamite speaker Stone 1400 with premium audio experience. boAt lifestyle is focused on empowering its users with innovative technological solutions and value-added products.
Ankush Guglani, Business Head said "boAt Stone 1400 speaker is a must have for all music lovers who love travelling.With Bluetooth speakers, you can enjoy your favourite music anywhere and anytime. Find your inner peace with soft and slow music or party hard with the latest heart thumping beats at group gatherings."
boAt Stone 1400 speaker comes with a premium 70mm driver for high definition immersive audio that can get really loud.A solid IPX 5 Water Resistant design with a compact dual colour that emits 30W of high definition immersive audiokeeps the scene lit. An adjustable flat strap makes for easy portability supported by a cool and urban finish and an outdoor mode, making it perfect for any environment. The speaker is compatible with Bluetooth V4.2, Aux-in cables and USB port's to help you choose your own personalized path to Nirvana.
boat Stone 1400 offers upto 7 hours of play-time powered by the 2500mAh Lithium Battery which keep the speakers charged with its unique Type-C charging point. It's all fashion and style when you're kicking it with the boAt Stone 1400, the power to your passion. One can choose your indoor or outdoor mode with the equalizer setting and set the mood and mode to optimum productivity/entertainment. The speaker is built with integrated controls for an easy user experience and hands-free communication via an inbuilt MIC that allows for streamlined communication and activity.
The introductory price of the product is 5499 INR. The product carry's a 1 year warranty and is available at Amazon.in
Product Specifications:
Bluetooth version: BT4.2
Output power: 30W
speaker unit

:Diameter 70 mm outside driver
:Diameter 30 mm inside driver

SNR: ≥75DB
Working time: Up To 7 Hours of Audio Bliss
Charging voltage/current : TYPE C DC/2000MA
Support USB Flash Drive, Music format: MP3,WAV,WMA,APE,FLAG
Transmission: 10M (Vary from environment and devices)
Battery voltage :7.2V
Battery : 2500mAh
Charging time: 4.5 hours (Full charge)
THD: ≤10%
Product size: 319.5*118*119.5mm