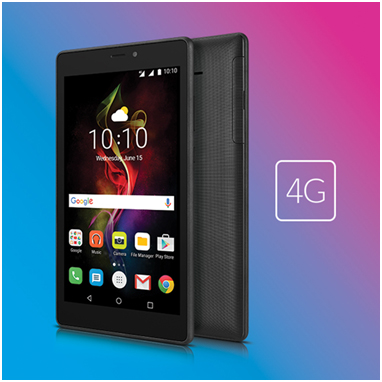 Alcatel launches the new Alcatel Pixi 4(7) 4G exclusively on Flipkart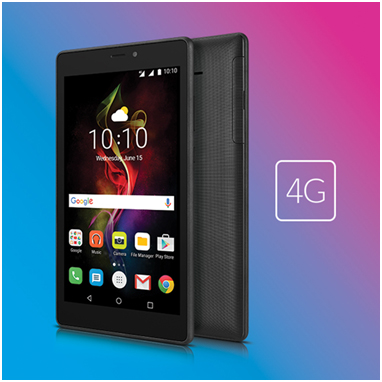 Alcatel announced their exciting new offering, the Pixi 4(7) 4G in the Indian market. The new Pixi 4(7) 4G goes above and beyond the mundane tablet and rediscovers the entire category with a gamut of exciting new features. The tablet boasts of an impeccable paint finish that looks and feels premium with an option of classy colours such as smoky grey and volcano black. The large 7"HD screen makes for a crisp and beautiful viewing experience. The powerful Quad Core processor is perfect for multitasking and multiple tabs can be operated at a lightning fast pace.
The Pixi 4(7) 4G also takes internet browsing to the next level with CAT4 LTE, that offers blistering speed to the users. The tablet comes with a host of other incredible features like 8 Mpxl camera with time lapse and geo tag, 1080p video capture and playback, powerful battery and the latest Android software. The Pixi 4(7) takes the mantle of superb product quality and user experience from its predecessors and goes above and beyond the run of the mill tablets!
Speaking at the launch,Mr Praveen Valecha, Regional Director, Alcatel India remarked, "The Pixi 4(7) series isn't just a tablet. It is an all in one package, which is made for a hassle free and seamless user experience. Continuing with Pixi 4 (6) success we want to target the millennials who enjoy watching movies while on the move. The phone provides 8.25 hours of video playback and  designed to be ultra -sleek ,dust and splash proof."
Christian Gatti- VP – International Business, TCL Mobile International Ltd added, "Alcatel stands, first and foremost for providing the best user experience and the new Pixi 4 (7) is a step in that direction. The partnership with Flipkart shall help us reach the consumers with ease and provide them with some pioneering new products. Our belief of superior consumer service meshes beautifully with Flipkart is known for in India."
Commenting on the launch, Hari Kumar, Director – Electronic Devices, Flipkart, said, "We are glad to extend our association with Alcatel and exclusively launch the new Pixi 4 (7) series. Flipkart's wide market reach coupled with Alcatel's revolutionary technology available at competitive price points is a winning combination for customers who are looking for affordable tablets with great design and robust performance."
Cinematic Powerhouse
The large 7"FD display, lets you view videos and pictures in HD and lets users operate multiple windows with ease. Now the users can watch movies, videos and pictures on this personal home theatre! The phone provides 8.25 hours of video playback.
Blistering browsing speeds
The CAT 4 LTE is made for speed. The users can now browse on the go at stunning speeds. The world is now just a click away!
Premium build and finish
All the amazing features come loaded in a pretty package. The slick painting finish and beautiful colours makes Pixi4(7) a sight to behold.
Powerful Battery
The 4000 mAh battery ensures that the users never run out of charge as they browse, click and watch videos on the go.
 Exciting features such as MTK8735D Android™ M and Quad Core 1.1GHz CPU G-sensor
The latest Android software and a powerful Quad Core processor offers an amazing user interface and experience.
 For all those connectivity blues
Bluetooth 4.0, GPS, and dual SIM slots lets you connect with ease as get in touch with your friends and family.
Price and availability:
The Pixi 4 (7) 4G smartphone will be available in India at a special launch price of Rs. 6,499