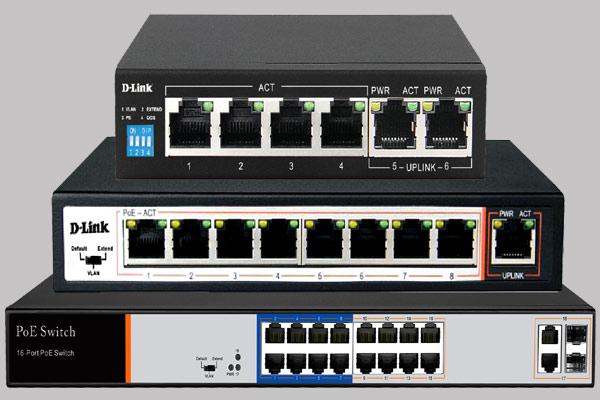 D-Link introduces new Unmanaged Long range PoE/PoE+ Switches
D-Link (India) Ltd. announced the launch of new family of 6 port, 9 port and 18 port Unmanaged Long range PoE/PoE+ Switches. DES-F1006P-E, DES-F1009P-E and DES-F1018P-E are 100Mbps PoE switches that enable users to easily connect and supply power to PoE capable devices such as wireless access points, IP cameras and VOIP phones. All these switches are designed to cater transmission of data and power distance of up to 250meters.
With DES-F1006P-E (6 port PoE), DES-F1009P-E (9 port PoE) and DES-F1018P-E (18 port PoE) Long Range PoE/PoE+ switches, D-Link brings out reliable and affordable switching solution to address the growing demand of SMB, SOHO and Smart Home users. Customers can connect PoE compatible devices to these switches without using additional power supply. This allows user to save on cabling, and allows one to install devices in location without immediate access to power outlets.
Key features:
Plug & Play Installation – The plug & play feature of DES-F1006P-E, DES-F1009P-E and DES-F1018P-E Unmanaged PoE/PoE+ switch eliminates the need of an IT expert or complicated user manual.
250meters transmission distance – Supports transmission distance of up to 250meters for flexible installation of wireless Access Point (AP) & Surveillance solutions by simply click on DIP switch.
6KV Lightening Protection – With built-in 6kV lightning surge protection designed for network interfaces, these switches provide comprehensive reliability and protection against lightning risk.
Supports IEEE 802.3af (PoE) & 802.3at (PoE+) – Powers PoE capable network devices via. Ethernet cables without the need for power adapters. D-Link DES-F1006P-E, DES-F1009P-E and DES-F1018P-E come with a total PoE budget of 60W, 120W and 180W respectively.
Switch mode functionality – Supports three mode operation (QoS, VLAN and Power)
Uplink port – To eliminate the need for crossover cables
Availability and warranty:
D-Link's new unmanaged PoE/PoE+ switches are available pan India through its wide network of National distributor & Business distributors. D-Link DES-F1006P-E, DES-F1009P-E, and DES-F1018P-E long range switches come with 3 years warranty. Partners & Customers can also opt for D-Link Care program that has been designed to extend support in protecting Network infrastructure with minimum cost.
Pricing:
DES-F1006P-E – Rs. 4,484.00/- (MRP)
DES-F1009P-E – Rs. 7,788.00/- (MRP)
DES-F1018P-E – Rs. 33,040.00/- (MRP)