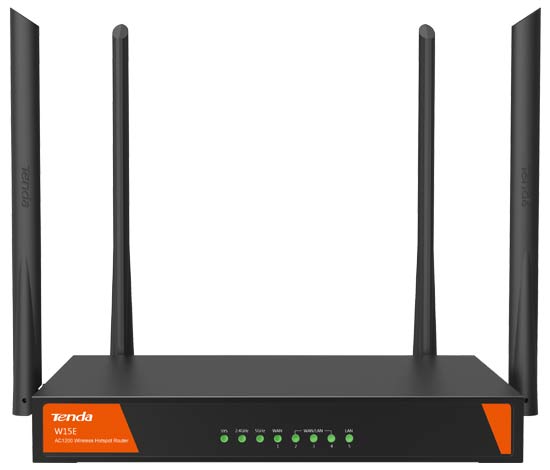 Upgrade your Business, with True Enterprise Wireless Hotspot Router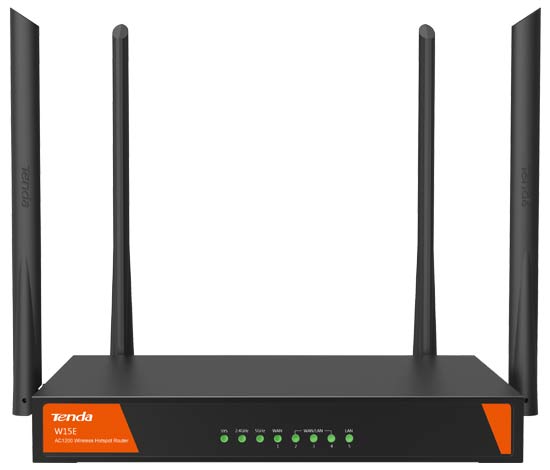 Tenda has launched its all-new W15E AC1200 Wireless Dual Band Hotspot Router.
W15E is designed to provide a wireless network for small office, cafés, hotels, malls, large house etc premise. It is compliant with 802.11a/n/ac standard and delivers wireless rate up to 1200Mbps. Integrated with an external power amplifier and 4 high gain antennas, it provides excellent wireless coverage and high-quality wifi connection experience for the mobile user.
Captive Portal
W15E is equipped with captive portal service. Captive Portal helps in creating a landing page, which will pop-up when the mobile device connects to a wifi network of the router. Once username and password are provided, the user will be able to access the Internet. This way a business can customise user experience according to its own preference.
High-Density User Access
Use of the 11ac dual band 1167Mbps rate, airtime fairness, 5G band-steering etc gives W15E optimization over wireless technology to improve wireless user capacity and ensure high-quality Wi-Fi connection.
Multi-WAN Load Balance
W15E supports 4 WAN ports. It can realize bandwidth averaging between two WAN ports base IP Group. Also, it reserves the possibility of bandwidth expansion in the future.
Smart Bandwidth Control
W15E is featured with smart bandwidth management. considering which W15E can adjust each user's download and upload bandwidth automatically according to all users bandwidth usage to avoid bandwidth insufficiently.
PPTP/L2TP/IPSec Server
W15E supports multiple VPN protocols including IPsec, PPTP and L2TP in Client/Server mode. It is easy to set up a secure data link between branch and headquarters through LAN-to-LAN/Client-to-LAN mode for seamless business connectivity.