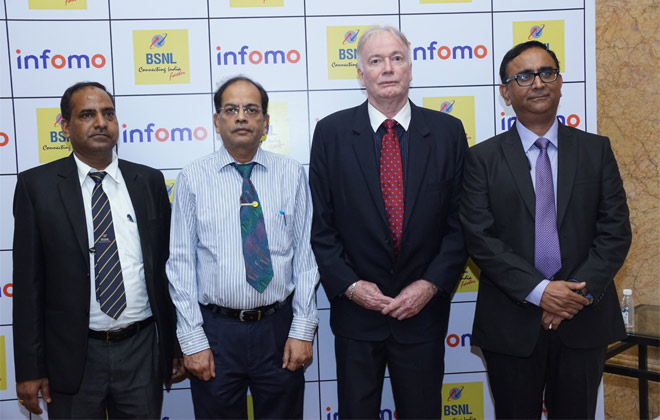 BSNL enters into partnership with Call2Action Communication India Private ltd.
Bharat Sanchar Nigam Limited announced i.e.31-05-2018 for partnering with Call2Action Communication India Private limited, with its formal entry into the Indian mobile advertising ecosystem by signing an agreement.
While announcing this partnership between Bharat Sanchar Nigam Limited (BSNL) and Call2Action, we expect that this partnership is going to create disruption in Mobile Advertising Ecosystem with innovative reward-based mobile advertising and promotions platform designed specifically for mobile network operators. The services delivers rich interactive advertising and promotion content to mobile phones during routine everyday interactions such as calls, SMS, alerts, notifications, beacons, and other location-based interactions.
Online advertising is currently dominated by banner ads. Call2Action through Infomo intends to challenge this by providing a viable and sustainable mobile advertising alternative. Call2Action through Infomo provides a simpler mobile advertising ecosystem (Advertiser>Operator>Mobile User) that reduces costs and increases transparency. This will help Operators to build new incremental revenues that parlay their significant investment in mobile infrastructure assets.
Speaking of the launch Mr. Peter Jermyn, the Chairman of Talisman said, "This is a new business model which will transform the mobile advertising industry. Infomo empowers mobile network operators by offeringan alternative authenticated mobile advertising ecosystem to the current legacy system currently dominated by Facebook and Google. We wanted to enter the Indian mobile advertising market and have found the ideal partner in BSNL."
Mr. R. K. Mittal, Director (Consumer Mobility), BSNL said, "We believe that Call2Action through Infomo can transform the mobile advertising market in India. The Indian telecom sector is experiencing turbulent times and telecom operators are always looking to increase the Average Revenue Per User (ARPU). This landmark partnership with Call2Action through Infomo can help us achieve and improve our ARPU by providing our 110 million customers inIndia with a range of innovative new services from which they can earn significant rewards."Mr.Mittal added, "There are already over 5 million MyBSNL app downloads for Android and Apple devices. Call2Action through Infomo will only increase our app download community."
Explaining this concept further, Mr Ananda Rao the Founder & Director, Call2Action Communication said, "Anyone in India can avail this service by simply downloading the MyBSNL app from the Google and Apple play stores. Once you sign up for the app, you can select the kind of content you want to receive on your phone. Based on your preferences, appropriate content will be automatically delivered to your mobile and you will be eligible for multiple rewards. For example, based on your accumulated points, you could simply pay for your monthly plan. Our partner Happiest Minds (www.happiestminds.com) will provide nationwide integration services. To make this app very useful, we are also bringing new capabilities from technology companies like Voxvalley Technologies (OTT Voice and Chat), ManageMyHealth (Electronic Health Records) and DreemAR (Augmented Reality)."