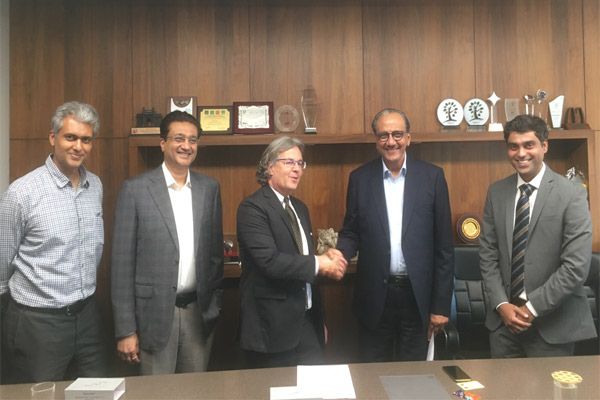 HP reinvents digital printing in India with Indigo 30000
HP Inc will be introducing the new HP Indigo 30000 Digital Press in India through its first installation at Parksons Packaging plant in Daman. The HP Indigo 3000 is a one-of-a-kind, field proven, digital folding carton press that can help the carton printing industry to address the demands coming from the healthcare, food & beverage, personal care & cosmetics sectors. 
Ramesh Kejriwal, chairman of Parksons Packaging said, "We have been looking at cutting edge technology for our business and HP Indigo 30000 is the perfect fit because it has the right technology in terms of their system and quality. The entire market is evolving, and the brand owners are looking at how they can enhance their brands and launch new products. We have taken a significant step in that direction by partnering with HP."
Alon Bar-Shany, Vice President and General Manager at HP Indigo, said, "Brands want quality and good price, they want faster on-time delivery, they want to be able to react much faster through various elements of customisation, and there's a certain growing aspect of brand protection and security. With the HP Indigo presses, we are trying not to just provide printing technology, but work on an interim solution, which will enable everything from design, colour management, printing to finishing, and of course meeting the very high-quality standards of offset."
"The HP technology will simplify the complexity of design handling, allow our customers to dip in and out of their short-run requirements, smart packaging support like greater track-and-trace and the ability to interact with their end-users," said Siddharth Kejriwal, Director of Parkson's Packaging.
"HP Indigo 30000 brings path-breaking innovation into packaging printing segment with its unique digital capabilities that can help create customized and personalized products. We are excited to work with Parksons Packaging and help them drive greater value and quality for their customers." said A. Appadurai, Country Manager, Indigo and PageWide Web Press, Graphics Solutions Business, HP Inc. India