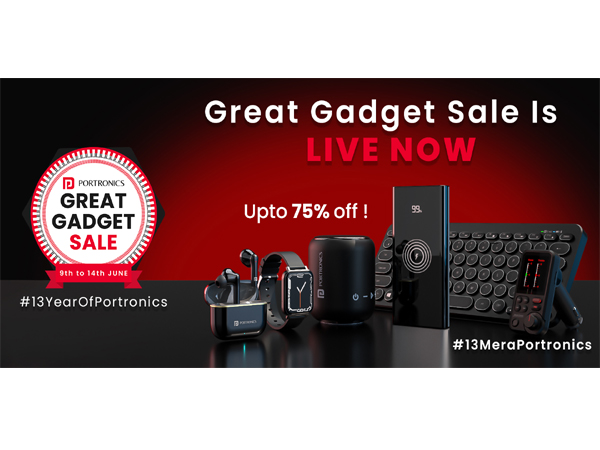 Portronics Commemorates a Noteworthy 13-Year Journey
Leading player and provider of Innovative, Digital, and Portable gadgets, Portronics is extremely thrilled to announce its completion of 13 glorious, successful, and prosperous years in the country. Established with a vision to make technology 'Accessible', 'Affordable,' and 'Inclusive' for everyone, anywhere, and at any time, Portronics is synonymous with 'Innovations' and 'Portability'. The brand confidently showcases its nationwide reach — all thanks to the immense love, support, and trust bestowed upon it by its fans and patrons. Innovation, aesthetics, quality, and most importantly, providing outstanding customer satisfaction, form the foundation of business.
To celebrate this occasion, Portronics has announced a huge discount period that offers a whopping up to 75%* discount on almost the entire range of products for its fans and customers. Wait — there's more!! Customers can also get an additional 13%* off on the Portronics range of Audio, Mobile, PC, and Car Accessories. So hurry, here everyone stands a chance to win amazing Portronics gadgets, every day. To take part and try your luck, all you need to do is follow the brand's official website Portronics.com and social media handles and win jaw-dropping deals.
Portronics offers a wide variety of portable, innovative, and useful goods across its portfolio, and has consistently helped people improve their levels of productivity, entertainment, and well-being. This represents Portronics' mission to make commonplace devices portable and easily available to a broader audience. Moving on, over the last 13 years, the brand has launched more than 2000+ products in over 30+ product categories, apart from achieving a record of more than 50 million units sold. Last year itself marked an unprecedented sale of 1.3 million+ products, which included the topmost segments such as speakers, power banks, and chargers. With its impressive array of products and constant support from its customers, Portronics has managed to sustain staggering growth over the years and is aiming to raise the bar further in the years to come.
Portronics has a strong presence in India and sells through a vast network of offline and online avenues with an association of 1000+ Distributors and 25000+ Premium Retailers nationwide and collaborations with major online and offline brands such as Amazon, Flipkart, Myntra, Tata Croma, Vijay Sales, D-Mart, and Reliance Digital, etc.  The brand product line includes smart wearables, laptop and mobile accessories projectors, digital writing pads, smart plugs, car accessories and power products etc. Additionally, Portronics has broadened its focus by including gaming accessories and AV conferencing solutions.