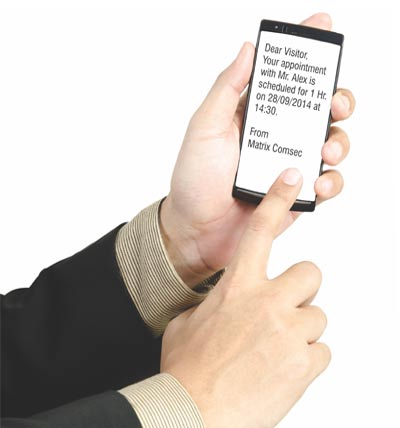 7 Benefits of having an Automated Visitor Management System
There is no doubt in the fact that most organizations attract large number of visitors. Modern, growing businesses are always concernedwith keeping their physical and logical data secure. Depending on a few security guards and sign-in sheets doesn't ensure security of your premises. Gone are the days when registers were used for visitor sign-in process.When considering premises protection, it is important to get a security system that can provide security throughout the premises effectively. A completely automated visitor management solution offers more versatile, effective and easy-to-use visitor management system.
What is Visitor Management System?
Before counting on features of visitor management system, let's get a fair idea of what visitor management system exactly means and why businesses need to protect their premises with a visitor management system.It refers to tracking every visitor entering the premises and the equipment they are carrying. Visitor Management Solution is designed to address security and safety of physical, intellectual and human assets. It is a professional and systematic method that works without compromising security, hospitality or productivity.
Reasons for Implementing Visitor Management Systems:
Know your Visitors: Having the ability to control both planned and unplanned guests while they are visiting your facility will help greatly in reducing risks and providing enhanced security. A visitor management system is efficient enough to provide security in the entire premise. By using a solution that allows your visitors to pre-register their visit and enter all the relevant details at the time of pre-registration, you can quickly process their details pertaining to the visit.
Notifications for Better Preparedness: When the visitor gets pre-registered, a notification in the form of SMS or E-mail is sent to the visitor with necessary details. This ensures quick check-in process when the visitor arrives at the security gate. A notification is also sent to the host when the visitor checks-in to the premises, allowing them to know about the visitor's(s') arrival.
Visitor E–pass/Paper Pass Creation: Visitor Management System offers options to create either an e-pass with access rights or a paper pass for visitors with information such as visitor name, photograph, contact details, organization name and escort name. It also maintains records of all the materials visitor is carrying and his ID-proof for security purpose.
Improved Control with Visitor Access: One of the most leveraged benefits of visitor access management system is easy control. By enrolling a visitor's credentials (Palm Vein or Fingerprint) or RFID Card, you can permit visitors to access only scheduled and selected areas.
Maintain Visitor Database: Staying abreast with the visitor database is important to mark frequent visitors. To avoid entry of the same user details every time and save time, visitor management keeps database of past visitors. This helps creation of visitor pass quickly, as the security person is simply required to retrieve the visitor information from the past records, eliminate the need of reentering the data in the process.
Live Status of Visitors: To enhance visitor management security, visitor dashboard shows current status of all the visitors. It providesreal-time data of visitors who are inside the premises, status of registered visitor passes, pre-registered visitors, new visitors, surrendered passes, expired passes and more.
Generate Visitor Report: Another major benefit of having automated visitor management system is that admin or security can generate various reports in different formats includingExcel, PDF, CSV Word and RTF. They can generate reports of visitor punch details, pre-registered visitors, visitor access denied, enrollment status, pass validity and more.