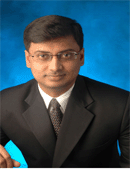 Subhodeep Bhattacharya, Regional Director, India & SAARC, NETGEAR
Q. Please throw some light on NETGEAR ReadyNAS 214 and ReadyNAS 212 and its USP?
The ReadyNAS 210 is powered by a quad core Cortex A15 1.4GHz processor, has 2 Gigabytes of RAM, dual Gigabit Ethernet ports with Link Aggregation technology and delivers up to 200MByte/sec data transfer speed. It offers an industry's leading feature – 5 levels of protection on your documents, photos, videos and all types of data. The ReadyCLOUD portal-based user interface and app on PC, Mac, smartphones and tablets make the RN210 the ideal choice for consumers because of its simplicity and ease of use.
Major Advantages:
Quad core Cortex A15 1.4GHz processor and 2GB of RAM
Full HD 1080p wire speed streaming and transcoding
Dual gigabit Ethernet – Up to 2x throughput in Link Aggregation mode
Up to 200MB/s read and 160MB/s write, maximize simultaneous throughput at Gigabit Ethernet and 802.11ac WiFi clients
Near-0 loss throughput anti-virus built-in
ReadyCLOUD portal-based user interface and app make building a private cloud easy and secure
Advanced BTRFS file system delivers 5 levels of complete data protection
Powerful desktop app for complete file syncing and automatic backup
Virtual Private Time Machine Backup for all the Macs in your home
Fully customizable, with hundreds of advanced settings and 70+ add-on applications including Plex for streaming media
Q. What is NETGEAR's latest offering for SME's / SMB's?
NETGEAR consistently launches new technologies and product for SMBs and of the many of products that have been launched; we think that the 10g switches offer the most unique solutions for SMB customers. NETGEAR has launched a number of 10g switches, from 8 port plus managed to high end data centre aggregates. We feel that for the price points these products bring a lot of value in the SMB space.
Q. What is your Channel Strategy?
NETGEAR is a hundred percent channel oriented company and uses a multi-tier distribution system that reaches end customers across the length and breadth of India. Channel is a critical enabler for NETGEAR. Our prime focus is to increase the competence of all the NETGEAR channel partners. We believe in having a stable channel model where partners don't change frequently, and we expand the partner base only when we are expanding in geography or when we are expanding in terms of a new product or solution, which current partner bases can't provide. NETGEAR also has a host of solution partners to provide solutions using switching wireless controllers and storage products.
Q. What are the threats of BYOD and how NETGEAR can minimise the threats or help in its implementation?
The biggest threat in BYOD is security and SMB customers must be aware of this and must implement proper security policies to prevent any threat. On our part, NETGEAR provides adequate manageability in our products to ensure that security controllers are available for the customers to set policies.
Q. What are your future plans and programmes?
We shall continue to introduce new switches in the 10G, gigabit, smart and chassisswitches categories. On the wireless and storage end, we plan to bring new controllers and access points. We shall also introduce new automation solutions for home and small offices.