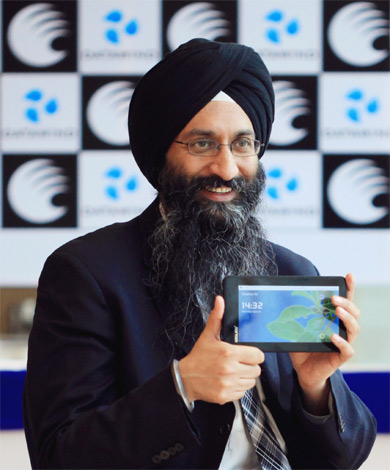 Suneet Singh Tuli, Chief Executive Officer, DataWindInc.
Q. What was DataWind's biggest achievement in the year 2016?
DataWind has sustained leadership in Tablet Market in India for the last four consecutive Quarters. With the one year free internet browsing bundled with all our devices, we had launched 9 products in the year 2016. All the products are introduced to the market with the purpose to cut down the cost of connectivity for technology to become universally accessible.
The company also inaugurated a new facility in Hyderabad previous year. The facility is fully operational, tablets and smartphones are being manufactured.
DataWind has been bestowed with many awards, some of them being, "Tablet Brand with Maximum Consumer Pull" at Teleanalysis Device World 2016, International Award for Innovative Solution for Achievement of Digital India at 9th annual NTA ICT World Communication Awards 2015, "Best Tablet Brand 2016" at 6th Digital Terminal Awards. My father Mr. Lakhbir Singh Tuli, Mentor & Founder, DataWind Inc. was honoured with Lifetime Achievement Award at 6th Digital Terminal Awards.
Q. How is DataWind supporting Digital India and the technologies patented by you?
While at digital front, DataWind has always tried to touch the less privileged section of the Indian population. Internet access and smart handsets are out of reach for them, and our prime motive is to digitize the core of India. By manufacturing the most affordable products with free one year internet browsing, we are doing our part in support of the digital India program.
With our prime endeavour to make various utilities available to the citizens through cutting-edge digital infrastructure we work to provide services to people in real time, cutting across every hindrance.
We stand to benefit with this move as it will increase the number of people accessing Internet in India. The future of a country is primarily determined by the growth of its economy and Digital India campaign is one such way that will not only strengthen the economy of India, but will also play a major role in putting India in the league of developed nations.
Q. What is the future of Tablets in Indian Market and how is DataWind performing?
According to a recent report by CMR, the demand of sub Rs 5,000 ($75) tablets in Indian market have been growing without fail. The tablet market in India recorded a modest 7% QoQ growth with 0.91 million units of tablet PCs shipped in Q1 2016. Considering the figures, it wouldn't be a wrong prediction that the tablets are the future of computing. Consumers consider tablets as a convenient device that provides larger screen display and with just a few taps on the screen you could access any content without the need for desktop or laptop, almost 80% of the work you do on those heavy machines could be done easily on tablets.
DataWind believes that growth of tablets in India will require ongoing efforts to break the affordability barrier. The entry level of the market has seen the highest growth over the last few years, and will continue to exhibit strong growth as the market remains unpenetrated. With Entry level tablets being the first-computers for the aam admi, its future is expected to be more closely embedded in our day-to-day lives than ever before.
Q. How is DataWind supporting Make in India Campaign?
From the very beginning DataWind has been propagating the cause in order to make it easier for those who want to set up their FABS here for computing devices. While it is our commitment to 'Make in India' initiative that we became the first ones, in fact the only ones so far, to set up a facility for manufacturing 'touch panels' in India. We appreciate the Govt. for moving in the direction of creating a manufacturer friendly atmosphere.
DataWind took key steps in line with the Prime Minister Narendra Modi's Vision of 'Make in India' by setting up 3 manufacturing facilities with an investment of more than Rs. 300 crores. As mentioned already, we already have two manufacturing units in Amritsar. The first one is for manufacturing 'touch panels' and one manufacturing unit where we are manufacturing our range of smart phones and tablets. Through the new facility in Hyderabad we have exported almost 2 lakh tablets and smart phones in 2 months of operations.
The third unit in Hyderabad is now operational which will generate 500 jobs in the first phase of its operation. It has a capacity to produce 20 lakhs units of tablets and smartphones per annum and will cater to the growing demand of low cost devices in the country.
Q. Please throw some light on New Launches & Initiatives by DataWind?
Our very recent launches in the tablet segment had been 4G tablet priced at INR 5, 999. Prior to which, to make up to the recent trends 2G/3G tablets with detachable keyboard making it convenient for the users whether to use it as a tablet or a laptop.
At DataWind we launch 4 to 6 products every quarter to provide our customers with most technologically advanced products at reasonable price. Our product range starts from INR 1499. DataWind also provides free internet browsing throughout the year with all of its products on Reliance network.
Our future specifications will include DataWind sim which will come with unlimited internet browsing for a year in just Rs. 99. We are also coming up with a pre installed browser in all our devices to slash down the internet usage. This is possible only by putting in use our patented technology that reduces the amount of data we need to get them on the internet by 30 times.  So the average size of webpage which is 1.7mb, will be reduced to just a bitmap and that's only 30-50k. Hence, the end user is getting basic internet access in less use data and at low cost.
Q. What are your future plans and programmes?
Sticking to our primary motive of the bridging the digital gap, we create products that are optimum balance between usability, performance and affordability for the Indian population.
We are considering introducing high-end 4G table, still focusing on affordable devices that can empower the masses of India. After setting up the third facility in India, our aim would be to serve the best to our customers at lowest possible price.
We have also taken a major initiative to apply for MVNOs in India in order to get the license as soon as possible so that we can pass the benefit to the consumers. Once we receive the license our aim is to provide unlimited internet browsing for 1 year at just INR 99.