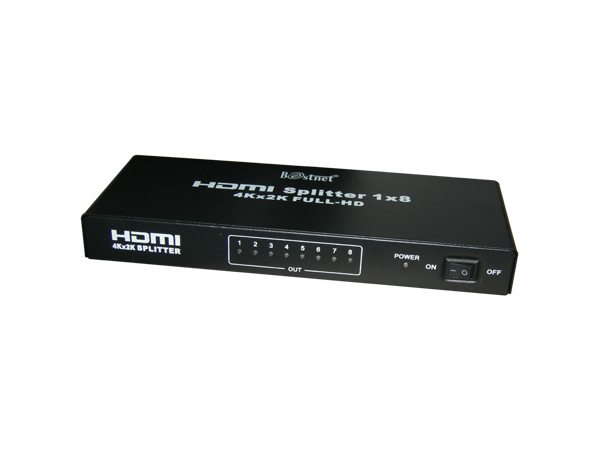 Eurotech Announces high performance BestNet 8-port HDMI splitter
Eurotech Technologies, a leading provider of audio video solutions, today announced the availability of BestNet 8-Port HDMI splitter to its popular line of video splitters. The BestNet HDMI splitter simultaneously distributes video and audio signals from one HDMI source to up-to eight HDMI displays and works with all HDMI-enabled equipment, such as; DVD players, set-top boxes and all HDMI displays, while supporting high resolutions up to 1920x1080p@60Hz and (3D) resolution  3840*2160p@30Hz.
Engineered to offer quality, performance and reliability at a cost-effective price point, the plug and play BestNet 8 Port HDMI splitter features HDCP 2.2, 3D video format, Smart EDID management, 8/10/12/36/48 bit deep color as well as high definition audio. These HDMI splitters feature fast switching technology and supports HDCP, 3DTV pass-through and loss-less audio formats such as; Dolby, TrueHD and DTS-HD master audio. The high-performance HDMI splitters also support video signals up to UHD 4K at 60Hz and are capable of receiving and transmitting with no data loss. In addition, the HDMI splitter features a slim chassis design with an enclosure made of aluminium alloy.
"Designed for professional audio video installations, BestNet 8-port HDMI splitter is a flexible solution that accommodates multiple digital video displays and suits a wide range of applications," said Mr. Anuj Jain, Managing Director, Eurotech Technologies.
Delivering industry leading quality, performance and reliability, the BestNet  HDMI Splitters are designed and well-suited for corporates, educational institutions, healthcare, digital signage, retail establishments, hospitality industry and any other  installations where ultra-high definition AV content from an HDMI source needs to be displayed simultaneously on multi ultra HD displays.