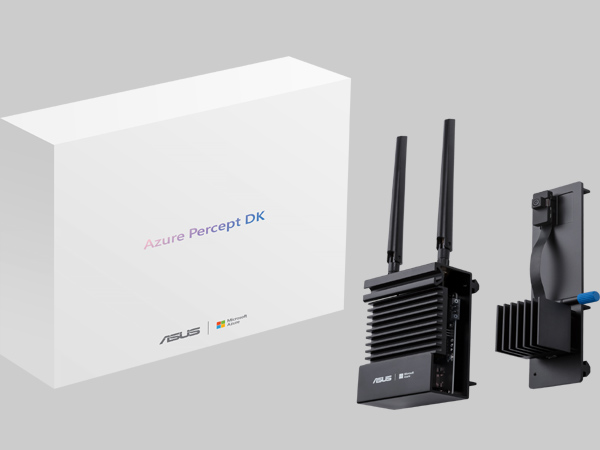 ASUS Announces Azure Percept Collaboration with Microsoft
ASUS today announced a new collaboration between the ASUS IoT business unit and Microsoft Azure Edge Devices, Platforms, & Serviceson the launch of Azure Percept DK — a comprehensive development kit for creatingAIoTedge solutions with Microsoft Azure Percept.
The partnership is focused on developing AI solutions for edge devices. Specifically, the new ASUS Azure Percept DK provides a comprehensive edge AI platform for users, enabling the creation of edge AIoT solutions.
Easingcommon difficulties with edge AI
Converting existing cloud-based AI models to workwith edge solutions can be a complex process— and one that Azure Percept DK is designed to overcome. Powered by Microsoft Azure Percept, Azure Percept DK helps customers to break through the difficulties to quickly and easily prototype scenario-based edge AI solutions.
"Azure Percept offers an end-to-end blueprint for building and training responsible edge AI solutions," commented RoanneSones, Corporate Vice President. "Microsoft Azure Percept Studio hosts a collection of fully managed Azure services with added security, integrated for simple-to-use device provisioning and edge-AI-lifecycle management, giving developers a full suite of services designed to be deployed on edge hardware."
Azure Percept DK and Azure Percept Audio by ASUS
Azure Percept DK by ASUS is a pilot-ready development kit deeply integrated to work with Azure AI, Azure Machine Learning and Azure IoT management services. The development kit includes a carrier board based on an Arm® Cortex-A53 system-on-chip (SoC) and Azure Percept Vision, made for prototyping scenario-based AI solutions.
Specifically, the carrier board is a single-board computer (SBC) with an NXP® i.MX 8M quad-core CPU at its heart. It also includes a WiFimodule and a discrete Trusted Platform Module (TPM) chip, both onpre-installed modules, for securedatatransfers and over-the-air (OTA) updates. Azure Percept Vision, a camera module integrated with Intel®Movidius™ Myriad™ Xaccelerator, ready for vision-based AI inference at the edge.
Azure Percept DK can also be extended with Azure Percept Audio, a hardware accessory with preconfigured four-mic linear array that work with the Microsoft Azure service to enable custom speech-based functions.
ASUS IoToffers custom design services to fulfill the needs of commercial customers
ASUS is a global technology leader with over 5,000 R&D professionals and 1,000 service centers covering 98 countries. For those in search of tailor-made internet of things (IoT) and artificial intelligence (AI) solutions, ASUS IoT offers custom design services to match specific requirements. With the right skills to design, manufacture, test and support, ASUS IoTprovides a one-stop service to help businesses realize and manage their AIoTambitions in an effective, cost-saving manner.