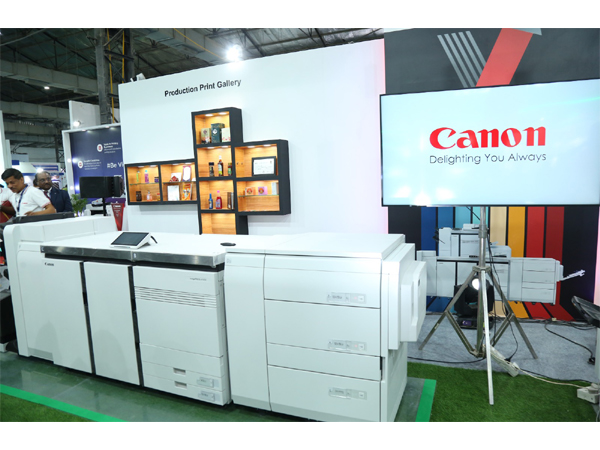 Canon India reinforces its proven imagePRESS color production printers with New Generation V Series
Committed to lead by innovation, Canon India, one of the leaders in the digital imaging industry, has today announced the launch of a new generation of the imagePRESS series, comprising V1000 and V900, at PAMEX 2023 in Mumbai. The latest digital colour press printers exhibit a perfect synergy of superior technologies, incorporated over well-established previous models, with enhanced media flexibility and higher productivity. The new series, suitable for Light and Mid Production Print Environment will offer users features such as Versatility, Viability, High-Volume Printing, Vibrant Print quality, and is a perfect Visionary Print partner for business growth, thereby empowering businesses to #BeVictoriousWithVSeries.
PAMEX is a premier printing exhibition and global business platform for the print, label & converting industry, which is being held at Bombay Exhibition Centre, Goregaon from 27- 30 March. Centred on the theme of #BeVictoriousWithVSeries, the Canon stall will also be exhibiting other marquee products, including upgraded wide format printers like imagePROGRAF TM, TZ & GP Color Series, and the recently launched imagePROGRAF TC series.
Speaking on the occasion, Mr. Manabu Yamazaki, President and CEO, Canon India, said, "In the ever-evolving landscape of business with technology at the forefront, innovation stays core to all product development at Canon. Hence, with transformation as a key strategy for us this year, we are proud to unveil the new imagePRESS V series that also reflects our commitment to aligning products and solutions with customers' changing expectations and industry trends. As industries increasingly move towards automating their tasks, the focus has shifted from not only increasing productivity, but also increasing flexibility and quality in the output. By creating a technological synergy in the new futuristic printers, we are unlocking new opportunities for success and growth, for both Canon and our customers. We are excited to be pushing the boundaries in printing technology and enable our customers to #BeVictoriousWithVSeries."
Sharing his thoughts on the exhibition, he further stated, "PAMEX has always provided us with an appropriate platform to demonstrate some of our marquee offerings, amidst a large gathering of jobbers, commercial printers, and book printers. Hence, we are expecting a good footfall yet again at the event, providing us the opportunity to demonstrate the unique capabilities of the new V-series."
The Versatile imagePRESS V series is equipped to handle a wide range of printing tasks, ranging from simple documents to top-notch marketing materials on varying types of substrates. The excellent efficiency and cost-effectiveness make the V1000 and V900 Viable choices, empowering businesses to grow and succeed. The printers' ability to produce high Volume prints and smoothly switch between different papers allows busy print shops and in-house printing departments to increase their production capacities. Furthermore, the new series has exceptional quality prints that are teeming with Vibrant colours while being sharp and detailed. Overall, the new generation offers Visionary technology to long-term growth driven businesses and customers, in mid and Light-production segments.
Commenting on the launch, Mr. C Sukumaran, Senior Director, Products & Communication, Canon India said, "As we launch a new generation of imagePRESS V series, we at Canon India are thrilled to be equipping businesses with cutting-edge technology that enables them to unlock new levels of productivity and efficiency. The new V1000 for the mid-production segment, and V900 for the light-production segment, provide users with increased flexibility to handle diverse applications with a very broad media capability, thereby empowering them to explore new business avenues. Combining various productivity-enhancing features to help operators tackle day-to-day production challenges, these digital colour press printers will ensure that customers can boost both quality and quantity of their output and also meet demanding timelines. Overall, the new series exhibit the power of V- providing users with increased versatility, viability, high volume and vibrant print quality, all coupled with visionary technologies. Our endeavour of best-in-class innovation and customer satisfaction remains unwavering, and we look forward to helping businesses achieve greater heights with our latest offering."
Key features of imagePRESS V1000
Effective Task Automation
With a strong emphasis on task automation, the imagePRESS V1000 helps PSPs ensure colour repeatability and registration alignment effortlessly. The Inline Spectrophotometers (ILS) allow operators to easily perform advanced colour adjustments such as engine linearisation, colour profile creation, calibration, and colour validation in a short span of time with minimal operator intervention. In addition, a new Precision Registration Technology helps operators ensure the alignment of duplexed sheets remains accurate and consistent during long production runs.
The imagePRESS V1000 also has a strong front-end controller options: the imagePRESS Server D3000. Powered by the Fiery FS500 Pro system software, the imagePRESS Server D3000 adds new functionalities, including familiar workflow and prepress features. In addition, the Express Media Colour Manager and Auto Recall combined with the ILS deliver swift colour management on an intuitive interface.
Productive Print Operations
Integrated with POD-SURF (Surface Rapid Fusing), the imagePRESS V1000 effectively maintains a consistent print speed of 100 ppm on coated and heavy media types up to 400g/m2 (gsm), sustaining high efficiency when printing complex and mixed media jobs. When used with the Bypass trays, the optional Multi-Drawer Paper Deck boost the paper input capabilities to create a wide array of premium applications. With remote alerts, operators can change media and toner and remove toner waste while keeping the imagePRESS V1000 running for maximum productivity.
High Quality and Reliability
The imagePRESS V1000 features an innovative cooling system that cools paper immediately after fixing it. Minimising the risk of warping, sticking or bricking, the new cooling system ensures optimum print quality and avoids potential waste for the best cost-efficiency. Moreover, a new transfer technology creates the ideal transport path for each sheet of paper during the printing process and ensures even colour distribution when operators switch between media types with different weights during printing.
Key features of imagePRESS V900/V800/V700
The imagePRESS V900 Series – Versatile Entry-Level Models
Perfect for light volume production, the imagePRESS V900 series produces monthly print volumes of up to 500,000 A4 pages, and consists of three different entry-level models, the V900, V800 and V700 with print speeds of up to 90/80/70 A4 pages/minute respectively. Built to meet the needs of varied production environments, the imagePRESS V900 series delivers superb versatility by incorporating the latest technology that adjusts the suction force before fixing according to different paper weights, stabilising the transport of thick paper.
The imagePRESS V900 series also includes feed rollers and strengthened transport rollers to improve the transport stability for thin, thick, and short paper, expanding the variety of high-quality applications printable on the press. The versatile series supports a wide array of media ranging from 52g/m2 (gsm) plain and 70g/m2 (gsm) coated to 350g/m2 (gsm) thick media, narrow envelopes, auto-duplex 762mm and simplex 1.3m banners, as well as embossed and synthetic paper.
Eliminating the need for highly skilled operators, the imagePRESS V900 series incorporates new time- and labour-saving automation features that ensure ease of use. The inclusion of an optional Duplex Colour Image Reader Unit allows the press to make rapid pre-print adjustments to front and back registration, colour gradation and density, as well as secondary transfer voltage to ensure high-quality production even on textured media. PSPs can simply run printed adjustment charts through the Automatic Document Feeder, a part of the Duplex Colour Image Reader Unit, and the press makes the required adjustments automatically. Other time-saving features on the imagePRESS V900 series include remote alerts that inform operators when consumables run low.