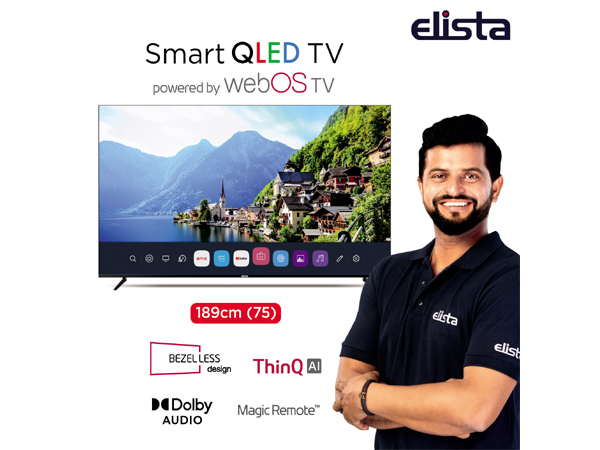 Elista redefines Home Entertainment with the most affordable 75" QLED 4K Smart TV
Elista, India's premier brand of electronics, home appliances, IT, and mobile accessories, today announced the debut of its first ultra-premium QLED 4K Smart TV, powered by WebOS TV. The cutting-edge smart television sets a new benchmark in the industry with its segment-leading specifications and features at the most affordable price in the category.
Elista 75" 4K QLED Smart TV is powered by LG's intuitive WebOS user interface and features a massive 189 cm (75") 4K resolution (3840 x 2160) QLED panel. Complemented by state-of-the-art audio and video technologies, the Smart TV is designed to deliver a cinematic viewing experience right in the comfort of your living room.
Elista's QLED 4K Smart TV, powered by WebOS TV boasts a bezel-less design and is meticulously crafted from premium materials, elevating the aesthetics of your living room with its expansive vibrant QLED display. The massive 75" QLED screen offers versatile placement options, whether wall-mounted for a sleek look or positioned on a cabinet using the bundled table-top stands at no additional cost.
The Elista QLED 4K Smart TV, powered by WebOS TV comes at an introductory price of just Rs. 1,59,999, and is available at all leading consumer electronics stores and online platforms.
Elista, a brand under TeknoDome Umbrella has established a reputation for delivering cutting-edge technology at affordable price points, and the company's debut QLED Smart TV exemplifies this commitment.
Commenting on the launch, Pawan Kumar, CEO, Elista said, ""Elista is proud to add QLED 4K Smart TV, powered by WebOS TV to its versatile Smart TV portfolio, revolutionizing the home entertainment landscape. Our commitment to delivering exceptional cinematic experiences at the most affordable prices is at the heart of this groundbreaking launch. This television is not merely a product; it represents our dedication to elevating your home entertainment to unprecedented levels. At Elista, we believe that every home deserves the best, and our 75" QLED TV embodies that philosophy as it offers the cutting-edge TV-viewing experience by combining the best of audio-video, connectivity, and software features at a never-before seen price-point."
The 75" QLED panel sets a new standard with its remarkable picture clarity and best-in-class viewing angles. Users can indulge in seamlessly smooth visuals even with low-frame rate content, thanks to MEMC @60HZ technology. Coupled with cutting-edge features like Future-Ready Technology and ALLM (Automatic Low Latency Mode), it offers an astonishingly low input lag of less than 5 ms, ensuring an exceptional and action-packed viewing experience.
The ultra-clear 75" 4K QLED panel is complemented by Dolby Audio powered immersive audio setup with high-fidelity surround sound, delivering an unparalleled audio experience. In terms of connectivity, the QLED 4K Smart TV, powered by WebOS TV is equipped with 2T2R (Dual Band) Wi-Fi and Bluetooth 5.0, ensuring seamless streaming, along with a comprehensive array of ports: 3x HDMI, 2x USB, AV In, Optical Out, and Earphone Out for a hassle-free connectivity experience.
Powered by the intelligent ThinQ AI, the Elista 75" 4K QLED WebOS Smart TV engages in two-way conversations with consumers, simplifying content streaming from YouTube and OTT apps through voice commands. LG's intelligent ThinQ AI also allows users to control the Smart TV via their smartphones.
Additionally, the Elista QLED 4K Smart TV, powered by WebOS TV includes an intuitive Magic remote with dedicated Netflix and Prime Video hotkeys for quick access to favorite shows and apps. The unique remote controller allows you scroll, point, click and browse through content, menus and lists effortlessly.
Elista's portfolio consists of LED TVs, Washing Machines, Coolers, Dishwashers, Refrigerators, IT Accessories,
Mobile Accessories & Speakers. The top brass in the company are industry pioneers who have combined expertise of over 200 years. The company's initiatives are motivated by the dual objectives of 'being vocal for local' and 'creating employment possibilities in India. As an Indian consumer electronics company, Elista is driven by the ambition to better people's lives while establishing the brand.