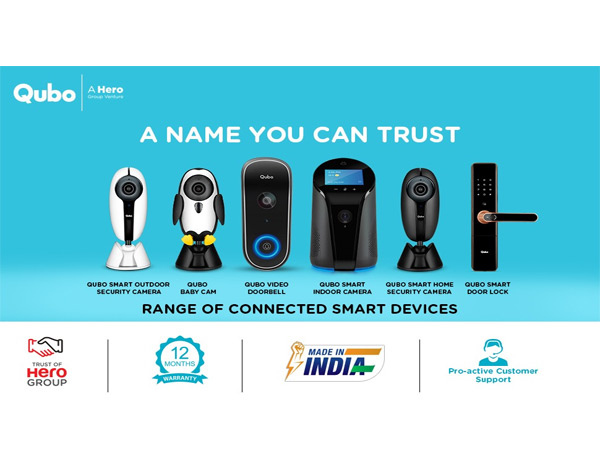 Hero Electronix adds Smart Door Lock and Smart Cam 360 to its Qubo Smart Home Product Range
Hero Electronix, a Hero Group company which is at the forefront of smart home technology in India has expanded their smart home devices lineup with two new products, Qubo Smart Cam 360 and Qubo Smart Door Lock. The expansion to the product lineup comes at a time when the need for affordable connected smart devices is soaring. Qubo's new smart products are an impeccable choice to help consumers upgrade their lifestyle. Priced at INR 2890, the AI powered smart 360 cam is the perfect addition to not only the smart homes but also small offices & business set ups to ensure 24×7 security and complete peace of mind. On the other hand, the smart door lock priced at INR 13,990 onwards allows the consumer to go keyless and enjoy living a convenient and smarter way of life.
Qubo Smart Door Lock offers the convenience of not having to carry keys and enjoy a keyless smart living. With changes in lifestyle owing to urbanization, having a keyless entry into your home is trendy and very convenient. This product offers hassle free living with five-way different access methods ranging from fingerprint, pin code to even mobile application access. Also, the smart door lock comes with a premium vogue finish and a super solid build quality. The lightweight alloy outer body coupled with the front mirror finish makes it a must stylish upgrade for your front door. Keeping the front door security in mind, this Smart lock comes with a best in class solid 5 stainless steel bolts and a brute alarm force. The voice guidance and privacy mode ensures an overall seamless usage experience for a smart user.
Qubo Smart 360 Camera which allows consumers to secure their loved ones and guard valuables in their homes/businesses is equipped with a host of breakthrough AI features in a compact form factor tailored for Indian households. The Smart 360 camera can be installed anywhere in your house. You can mount it on the wall or use it as a table top device in your baby's room. The Qubo Smart 360 Camera comes equipped with first of its kind AI features making it unique in its peer group. It has advanced Person Detection which will notify you whenever it detects a person. So, unlike other cameras in this category, this camera will only notify you for the things that matter. This 1080p Full HD camera with Full color in Low light will give you a clear view of your surroundings even in low light conditions. The two-way talk feature with echo cancellation and far-flung microphones allows for clear conversations even when people are standing/seated afar. Qubo Smart 360 Cam is the most secure device in its category. Data transmission through this device complies with the highest global standards of cryptographic algorithms and security keeping your data secured and private.
When it comes to new age tech products, customer support is necessary to ensure long term usage and hassle free adoption. Keeping this in mind, the company understands the vitality of proactive customer support upon purchasing the products and offers the same to ensure a seamless experience. With customers being at the core, Hero Electronix aims to provide a holistic smart home tech experience with their products and after sales services.
Commenting on the launch, Nikhil Rajpal, CEO, Hero Electronix, said: "Hero Electronix is determined to bring technologically advanced smart products at a time when they are needed the most. Over the years, we have worked hard on our commitment to launch global standard products from India. We strongly believe we are leading this transformation in India, being an integral part of the growing smart home category. Keeping in line with this, we have introduced two new products that not only offer security but also convenience to our consumers. We have newly entered the smart door lock category with our product and are keen on further expanding our line of products."
Qubo Smart 360 Cam will be available at an affordable price of INR 2,890 across offline outlets and leading e-commerce portals including Amazon and also on Qubo's own website. Qubo Smart Door Lock will come in two variants – Qubo Smart Door Lock Black will be priced at INR 13,990 and Qubo Smart Door Lock Ultra will be priced at INR 22,990. It will be launched in 6 cities for now – Delhi NCR, Mumbai, Bangalore, Hyderabad, Chennai & Ahmedabad. Qubo Smart Door Locks are live on Qubo's own website for bookings.
With the launch of the Qubo Home Security Camera, Hero Electronix is committed to its vision of launching more than 10 smart products across Home Automation, Automotive, Entertainment domains in the next 2 years. Hero Electronix is also committed to expanding its Qubo range of products to address the needs of the entire gamut of Indian consumers including early adopters and new adopters of the smart home ecosystem.