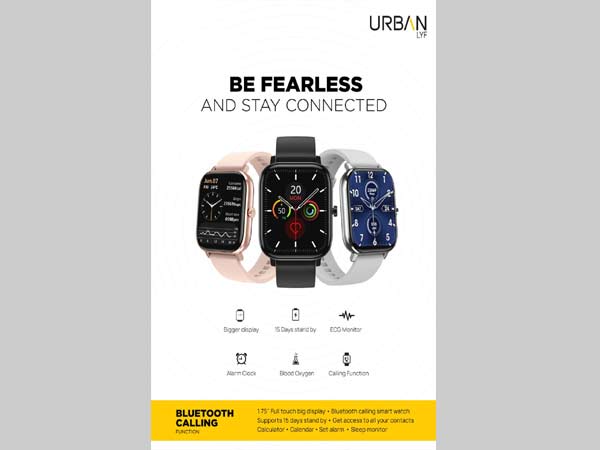 Inbase Introduces all new "Urban LYF" Smartwatch
Inbase, a leading name in the innovative and portable digital product market has expanded its Smartwatch segment by launching an all-new Smartwatch – "Urban LYF". With the launch of this new product, Inbase will be strengthening its existing portfolio of premium Smartwatch line-up.
The newly launched Smartwatch is unique as it is one of the few Smartwatches available in the market which comes with "Bluetooth Calling Feature" through which the user can make important calls without pulling out their Smartphone.
Urban LYF Smartwatch is loaded with a plethora of features that allow one to track their health by measuring and monitoring  blood pressure, sleep, heart rate, step count, blood oxygen and ECG while letting one enable to create their own style statement, inevitably making Inbase new Smartwatch a real treat for fitness enthusiasts. 
Urban LYF is available in 3 outstanding colour combinations and easy swappable straps starting with Jet Black Case with Midnight Black Band, Silver Case with Frost White Band and Rose Gold Case with Pink Salmon Band.
Urban LYF:
The new Smartwatch is equipped with a host of features ensuring the best for their users; it is an apt device to keep a check on daily health activities, i.e. to measure the vitals, heart rate, calories, ECG, sPO2, blood oxygen level, blood pressure as well as the steps taken accurately. The unique feature that makes this new Smartwatch unique is that it comes with Bluetooth Calling feature which allows you to make your important calls without pulling out your Smartphone out of your pocket making the new wearable a one of a kind device available in the market with this feature in its category. With its Bluetooth 4.0 connectivity, the Smartwatch connects swiftly with iOS and Android Smartphones.
Urban LYF is waterproof as it is IP 67 certified making it an ideal companion for your water-related events and sports. The Smartwatch comes with a full touch HD display screen of 1.75 inches with a 240*240 resolution getting a crystal clear and colourful display output and single-touch sensor through which every information about one's daily health and fitness activities can be tracked and accessed through the device or the app. Furthermore, one can even access their Social Media and Smartphone notifications via the Smartwatch and vibrates when there are alerts. Urban LYF has an incredible battery life of 7 days without calling and 2 days with calling features. The Smartwatch has a stand-up time of 15 days overall.
Features of Urban LYF:
·                 1.75 inch Full Touch HD display screen with 240*240 resolution
·                 Bluetooth Calling Feature
·                 Calls, Social Media, Message and Weather notifications
·                 Magnetic Charging Method
·                 Heart Rate, ECG, Calories, ECG, sPO2, Blood Oxygen Level, Blood Pressure and Sleep measuring  Sensors
·                 Camera & Music Controls
·                 In-built Alarm &Stop Watch
·                 Detachable Silicone Straps
·                 Access Calendar, Contacts & Calculator
·                 15 Days Standby Battery
·                 IP67 Rating
·                 Supported App: Fundo
Pricing and Availability:
Inbase Urban LYF Smartwatch is available through Urban Official Website (https://gourban.in/) at an introductory price of INR 4,999 and is backed with a 1-year warranty. The customers can also avail a special discount offer of INR 1,000 on the new Smartwatch till March 5, 2021 by using the Promo Code 'URBANLYF' at the time of purchase.