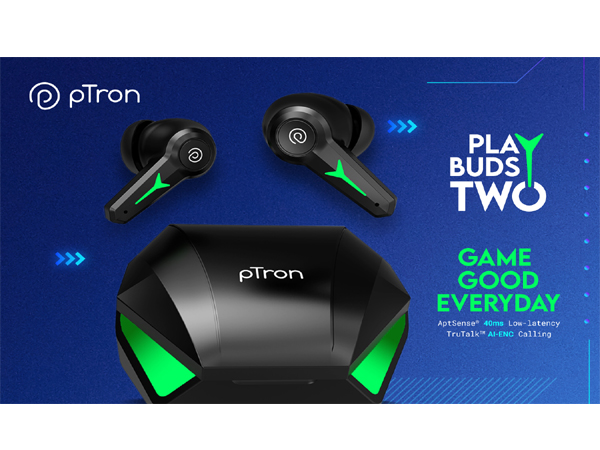 pTron Launches Playbuds 2: Where Speed Meets Sound
pTron, a leading player in the Indian consumer electronics market that has established its leadership position in the TWS category, is proud to announce pTron Playbuds 2 in its latest line of gaming audio products. The new gaming earbuds dubbed with AptSense® 40ms low latency for best gaming experience and 45 hours long playtime for gaming-grade audio performance on PC or Mobile devices.
Acknowledged as the best earbud for those long gaming sessions, engineered with cutting-edge AI – Environmental Noise Cancellation (AI-ENC) TruTalkTM technologies, pTron Playbuds 2 offers an exceptional audio experience that transcends all boundaries and shall be available on Amazon from 9th May 2023 for an introductory price of 899/- only.
AptSense® 40ms low latency technology: AptSense® 40ms low latency solution provides an immersive and acoustic audio experience for gamers, unlike any other wireless earbuds. Each earbud audio drivers deliver deep powerful bass, and high sound quality, designed specifically to meet gaming user needs. The multi-function touch control on the earbud provides tactile and intuitive control, allowing the user to move seamlessly between gaming and calls
Unlimited gaming experience with 45-hours playtime: Meeting one of the crucial requirements of gamers, Playbuds 2 is powered with battery that can support up to 45-hours playback-time on a single charge
While Bluetooth 5.3 delivers an effortless transmission with stability, 13mm Dynamic Bass Boost Drivers will definitely make high-quality audio experience that is essential for gaming need.
Announcing the launch of the new gaming TWS, Mr. Ameen Khwaja, Founder & CEO, pTron said, "With Playbuds 2, gamers can enjoy all the benefits of premium wireless gaming audio and unrivalled comfort, without any interchanges. The earbuds are specifically designed to enhance the gaming experience by providing clear and immersive sound, comfort during long gaming sessions, and features tailored for gaming needs."
Coupled with a 1-year warranty, The Playbuds 2 comes in Black. For the launch on Amazon, the Playbuds 2 will retail at a special price of INR 899/- as against the regular price of INR 1299/- from 9th May 2023.