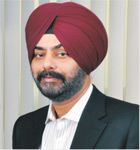 Gurpreet Singh Brar, Director, Commercial Channel Sales, PPS HP India
Q. What kind of solutions do you have for SME's/ SMB's and do you conduct any training programme for them?
Small and Medium-sized businesses have unique pain points of working with tight budgets, restricted cash flows and mounting challenges for revenues growth in the face of a tough economic environment. A small business needs to get the most out of business printing so it can operate successfully at reduced costs. We at HP have a deep rooted understanding of the needs of SMBs and have a strong suite of products and services that are designed to help them do more with printing, at lower costs. Whatever be the requirement of a small or mid-sized business, HP's portfolio has a printer or MFP that perfectly suits its needs.
For example, the recently launchedHP Officejet Pro 3610/3620 Black & White series offers laser-comparable quality and performance at very low running costs. With prices starting at justRs. 7,999, the series brings advanced productivity features of copying, scanning and mobile printing in a compelling package that redefines value for small businesses. Last year, we also launched the HP Hotspot LaserJet Pro M1218nfs MFP is a 7-in-1 All-in-One printer with in-built wireless Internet hotspot. Besides print, copy, scan and fax capabilities, the printer also comes with the latest mobile printing technologies including HP wireless direct, HP ePrint and Apple AirPrint™.
For mid-sized businesses, HPlast year launched a range of Printing Solutions that help optimize the printing infrastructure, reduce costs and enhance productivity. For example, the HP ePrintfor Enterprise allows businesses to print documents efficiently from mobile devices with enterprise-level security. HP EcoSMART Fleet allows you to see your energy and resource use from one intuitive and easy to use interface. HP Access Control Express combines cost-control and security features and offers users to print once to the server and "pull" jobs to any pull print-enabled HP LaserJet device
Q. What is your channel strategy and how do you want to empower your channel partners?
HP is investing in programs, people, and resources to equip its partners and help them drive profitable growth in a rapidly changing marketplace. Some of the key characteristics of HP's channel enablement programs are:
New programs like Managed Print Services are designed to help skilled partners move up the value chain and offer solutions and services on top of products to their customers and grow their profitability.
Mobile Mughals is a program around mobility. In this program, specialized partners across the country are identified and given quarterly targets, the partners are eventually rewarded based on meeting those targets.
From time to time, HP offers innovative promotions and initiatives to help its channel partners sell better, backed by strong marketing support.
HP continues to innovate and provide margin-rich opportunities for our partners. We are well-positioned to deliver solutions around cloud, security and information optimization, and we are the only vendor who can deliver complete solutions including hardware, software, and services for SMB and Enterprise customers.
New levels of innovation from HP allow partners to adequately address evolving customer needs such as IT consumerization, growing a need for mobility and utilization of cloud services.
HP has the scale, resources, and solutions to enable our partners to succeed. We are focused on strengthening relationships with our partners.
HP is increasing communications with channel partners by becoming more visible at channel events and engaging more proactively with our partners. Partners can also expect consistent messaging and assets they can use.
HP is strengthening its primary touch points with the channel and ensuring that partners are looped into our go-to-market strategy.
Q. How Hewlett-Packard (HP) is positioned in the laser printer market in India?
HP is India's printer market leader with a market share of 46.3% in laser printers, as per latest IDC data. India is one of the few markets with highest growth potential anywhere in the world. From the laser perspective, a better execution of SMB strategy has helped us gain market share over the last few quarters.
Our laser innovations include the HP Hotspot LaserJet Pro M1218nfs MFP, which is the world's first MFP with an inbuilt wireless hotspot. The HP Hotspot MFP lets up to eight devices (smartphones, tablets, and laptops) connect to it and access the Internet. It has been a runaway success amongst SOHOs and small businesses. HP India has also launched a new category in multi-functions, called Flow MFPs with advanced digitization and workflow capabilities. The Flow MFP range is designed to improve productivity and streamline processes. HP LaserJet Enterprise Flow 500 MFP M525c and HP LaserJet Enterprise Color Flow MFP M575c are designed to change how businesses capture, digitize, manage, consume and share data.
Q. What are your plans and programmes for2013?
HP remains very bullish on the printing industry over the long-haul and we believe that HP would continue to come up with exciting innovations. We will continue to see growing adoption of cloud and wireless enabled printers at homes and offices, and printers evolve as platforms that complement people's digital lives and therefore play a role much larger than simply print pages.
As the industry leader, it is HP's legacy to grow the printing categories by delivering innovation that enriches our customers' lives. While the home and SOHO segment would be a primary driver of inkjet sales, our new range of business inkjets will find greater acceptance in small and mid-sized businesses. Our Laserjet portfolio is industry's largest and we have a printer for every customer – from the start-up or micro-business to the country's largest enterprises.