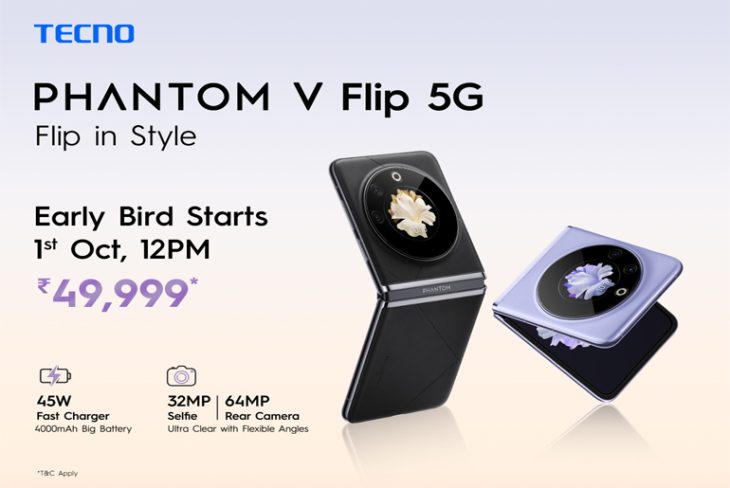 TECNO Revolutionizes Fold Market by Unveiling First Flip Phone in Sub-50K Segment
TECNO the premium technology brand is all set to announce its highly anticipated early bird sale for its ground-breaking smartphone, the TECNO PHANTOM V Flip 5G, exclusively for the Indian market. The TECNO Phantom V Flip 5G will be available for customers in India starting October 1, 2023, on Amazon.in at an unbeatable price of INR 49,999. The smartphone establishes a fresh benchmark by seamlessly merging cutting-edge technologies and stylish aesthetics with a unique cosmic design. Equipped with an impressive 64MP+13MP rear camera and 32MP front camera system. This smartphone redefines the intersection of innovation and fashion-forward appeal catering to the needs of the elite customers.
Commenting on the launch, Mr. Arijeet Talapatra, CEO, TECNO India, said, "With PHANTOM the focus is always on providing a Beyond the Extraordinary experience in the premium and ultra-premium segment, while emphasizing innovation through delivering segment-first features. The industry focus, at large, is shifting towards playing around the form factor. Phantom V Flip is our step in that direction. We have innovated around the design and brought in AI integration with ELLA GPT to cater to the changing needs of our elite customers. The perfect in pocket design is aimed at adding convenience, especially for our female customers. Furthermore, we are continuing our commitment to providing the best-in-class technologies at a disruptive pricing. We did that with the Phantom V Fold and now we are excited to continue the same with the Phantom V Flip."
KEY USPs OF PHANTOM V FLIP 5G:
PERFECT IN POCKET DESIGN
The TECNO PHANTOM V Flip 5G introduces users to a realm of high-end luxury with its sophisticated leather finish and elegant cosmic-inspired design. The device's circular round cover screen display is reminiscent of a cosmic-inspired shape, setting it apart from conventional foldable designs. The TECNO PHANTOM V Flip 5G features the innovative 1.32-inch AMOLED cover display. With easy one-thumb control and swiping from any angle, users can customize wallpapers, cute pets, access the camera, music, messages, and many more. Moreover, the phone's internal 6.9"FHD+ Adaptive 120Hz AMOLED display is made up of high-strength ultra-thin glass and a self-developed drop-shaped hinge delivering a crease-free experience. To match the fashion-forward needs of the youth, the smartphone is available for the customers in two delightful colors- Iconic Black and Mystic Dawn.
PHOTOGRAPHY MADE CONVENIENT
The TECNO PHANTOM V Flip 5G allows users to creatively capture moments using both front and rear lenses. The hoverlock design allows the smartphone to stand at any angle from 30-150˚, enabling FreeCam experience, effortless group shots, detailed selfies, low-angle shots, and hands-free time-lapses with gesture and voice control.
The rear camera boasts an impressive 64MP + 13MP resolution, with an f/1.7 aperture and RGBW lens. It further excels in capturing photos in challenging lighting conditions, illuminating even dimly lit scenes with superior low-light capabilities. Additionally the phone equips a 32MP front camera with an LED flashlight, making it first ever flip phone in India with front flash, allowing for users to capture picture-perfect moments and detailed selfies even in low-light scenarios.
STAY AHEAD WITH AI COMPANION
The TECNO PHANTOM V FLIP 5G boasts an intelligent AI companion called the ELLA GPT, an advanced chatbot, which lets you enjoy human-like conversations. Share your thoughts, ask for travel itinerary, draft a letter, or crack a joke ELLA GPT will solve all your queries serving as personal assistant, to give users greater peace of mind. Additionally, The PHANTOM V Flip 5G is TECNO's first device to feature the new HiOS 13.5 operating system, an optimized OS based on Android 13. The new OS supports apps and functions designed for dedicatedly for a flip smartphone. To keep users upto date, the phone will support 2 Android OS upgrades and 3 years of security patches.
AFFORDABILITY AT ITS BEST
As a part of the limited period introductory offer TECNO PHANTOM V Flip 5G will be available at an attractive price of Rs 49,999/- on Amazon.in for a limited period of time for customers in India starting October 1st, 2023.
Making the deal even sweeter, TECNO PHANTOM V Flip 5G offers a convenient no-cost EMI option of 12 months. This means customers can opt for the monthly payment plan with the early bird sale price, making it just Rs 4167 per month for a seamless and budget-friendly ownership experience.