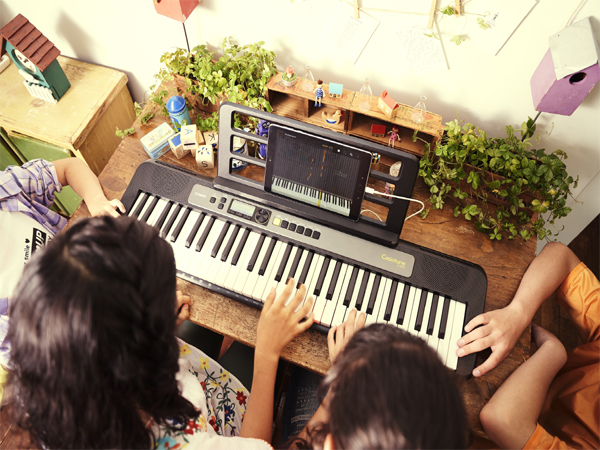 Casio makes keyboard music learning fun & entertaining
Casio, the leading musical instrument provider, launches a one-of-its kind musical keyboard in India on Amazon Prime day. Designed to make music learning fun, engaging and super easy, the LK-S250 is equipped with a Key Lighting System which acts as a self-guide to learning music by lighting the next key to be played on the keyboard. The product will be available on the Amazon India website from August 6, 2020 onwards.
This unique technology in the keyboard is special for the first-time players as the lighted keys coupled with the smartphone application connectivity lowers the hurdle to beginning a new musical instrument, making it an easy learning format, and providing convenience to learners especially during the current times where they cannot venture out of their houses freely to attend classes.
Using the Chordana Play application (available on Play Store and App Store) the user can practice any song by simply loading it's MIDI Files and following the Piano Roll screen on the application. With LK-S250 this becomes much easier. Casio India is even providing MIDI files of few basic exercises on their website.
The LK-S250 would be an addition to the Casiotone series which was launched in November 2019. The slim & stylish Casiotone models boast an easy interface, strengthened sound system, piano-style keys and app connectivity which makes it an ideal product for the budding music enthusiasts.
These keyboards have been designed keeping the needs of current users in mind which came up during an extensive research study conducted by Casio to make more users pick up Keyboard as their preferred choice of instrument.
Casio is celebrating its 40th Anniversary in the Musical Instruments segment this year and has yet again proved to be a pioneer Japanese brand focused towards making innovative and quality products
Commenting on the launch, Mr. K Seth, VP, Casio India, said, "The LK-S250 keyboard is a technologically advanced and innovative product from the house of Casio which will encourage easy music education among children and learners. It has been intelligently designed to program young minds into the instrument and to help them create meaningful rhythms."
Enjoy Casiotone with the Chordana Play App-https://www .youtube.com/watch?v=_B7eKBsQ188
Price: INR 13,495/-
Availability: The product will be available exclusively on Amazon Prime Day (August 6, 2020) at the Amazon website