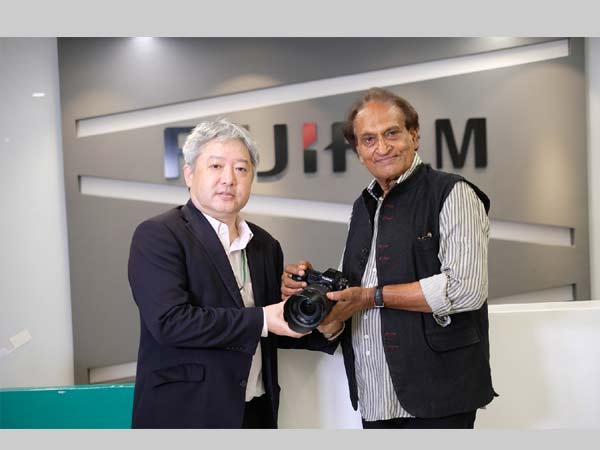 Fujifilm India join hands with ace photographer Mr. Raghu Rai to Redefine Dimensions of Photography
Fujifilm India Private Limited, a pioneer in imaging technologies has announced the profound and ace photographer Mr. Raghu Rai as the brand ambassador for Fujifilm's GFX series of cameras to unfold an exciting new photography venture. As part of this association, Raghu Rai will be capturing the art and undiscovered murals of India's magnificent national treasures – the Ajanta Ellora caves. The project will be shot exclusively on the Fujifilm GFX 100s camera that helps attain smooth gradation and image sharpness.
Known for associating with stalwarts of the photography community, Fujifilm has been working with eccentric artists on numerous projects. With this alliance, the brand truly wants to redefine the art of photography and having a Padma Shree awardee on board capturing the splendor of Ajanta Ellora caves makes it all a surreal experience. Popular for seizing the moments through his lenses, Mr. Rai comes with over 55 years of work experience in the field of photography. Some of his award winning and notable work would be capturing the Bhopal Gas tragedy, clicking legendary personalities such as Dalai Lama, Mother Terresa, Indira Gandhi, among others.  Along with pursuing his passion for photography, the veteran has also written 56 books that take us on a journey filled with knowledge, tricks and wonders.
Commenting on the announcement, Mr. Haruto Iwata, Managing Director, Fujifilm India Pvt Ltd, said, "We are thrilled to on-board Mr. Raghu Rai, onto our platform of X and GFX photographers as an ambassador. Mr. Raghu Rai is a brand in himself who has time and again showcased his creativity through his projects. His art work and books are a testimony to that and at Fujifilm India, we are ardent fans of the esteemed photographer. With this association, we aim to amalgamate Indian culture, architecture and landscape with photography. We are really excited to have him as the face of the Fujifilm X and GFX Series and are looking forward to a wonderful journey of adventure, aesthetics and inspiration."
Adding to the announcement, Mr. Arun Babu, General Manager Electronic Imaging and Optical Devices Division, Fujifilm India Pvt Ltd, said, "We are delighted to welcome the magnum photographer, Mr. Raghu Rai as our ambassador for our X and GFX range of Mirrorless cameras. We are sure, this association would not only bring out the architecture and landscape of our beautiful India but will also showcase our excellence in mirrorless cameras and will help photography community to understand power of Fujifilm mirrorless cameras and lenses. Fujifilm cameras are designed with years of experience, knowledge, and research into a mirrorless large format camera that redefines the boundaries and limitations of how photographers and filmmakers creatively express themselves."
Further Mr. Raghu Rai added, "I am excited to be a part of this venture. I have been an admirer of Fujifilm cameras and I'm eager to try out there latest GFX range of medium format cameras and lenses. With mirrorless technologies increasingly dominating the world of photography, I believe, Fujifilm offers the finest medium format mirrorless cameras that help photographers realize their truest vision. I have always admired the image quality, colors and the compact camera body that Fujifilm offers in its mirrorless range. This association will be a great opportunity for me to engage with camera enthusiasts and reveal the power of photography by capturing our very own culture, architecture and beautiful landscapes."
Fujifilm and Mr. Raghu Rai, both have a long standing legacy of creating stories in the form of pictures and this amalgamation will truly resonate with their shared goal of inspiring innovation, maintaining authenticity and never stop creating new values. Mr. Rai's photography resonates with what Fujifilm aims at achieving through the Ajanta and Ellora project -the World Heritage Sites. This partnership aims at bringing out the glory and splendor of the marvelous magnificent Ajanta Ellora caves that beholds the Hindu, Buddhist and Jain culture, while portraying the flamboyant Indian architecture.
With the new Fujifilm GFX 100Ss camera and Raghu Rai's intellect and intrinsic details, contrast and mood of the sculptures that are hard to witness through naked eyes will be brought to light. Through this project one will get a chance to appreciate and acknowledge the beauty and grandeur of ancient Indian art that makes India stand out. Be it the monolithic depiction of Ramayan or the saintly face of Lord Buddha, Ajanta Ellora is filled with stories that will keep one wondering about the dedication, art and culture that resided in ancient India.