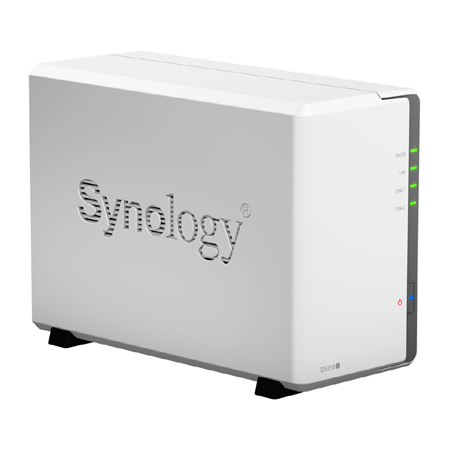 Synology DiskStation DS218j: A Versatile 2-bay NAS for Home and Personal Cloud Storage
Synology DiskStation DS218j is an entry-level 2-bay NAS that is powered by a dual-core 1.3Ghz CPU with 512GB of DDR3 RAM. It offers approximately 113MB/s sequential read and 112 MB/s sequential write speeds.
The latest Synology DS218j helps you backup all your digital assets with rapid data transmission and low power consumption. Designed specifically for home users, it also provides Cloud Station Backup for PC protection. The product comes with features like real-time incremental backup technology, where data is stored on a PC and can be backed up to a Synology NAS instantly using minimal system resources while bringing in a truly comprehensive and secure private cloud experience.
Cloud Station Backup provides an optimized PC backup solution. With the incremental backup technology, Cloud Station backs up only the modified files and divides them into even smaller parts, demanding significantly fewer system resources than traditional backup methods wherein Cloud Station Backup carries out the most complete backup tasks in real-time. When data is voluminous, a real-time backup prevents massive data loss due to unexpected disaster during backup cycles incorporating Real-time backup saving from massive data loss.
Synology Drive:
Synology Drive unifies multiple file portals on Synology NAS and greatly simplifies data management by synchronizing files across various platforms. To fulfill your need for office collaboration, Drive also provides seamless sharing features to ensure that you do not lose important files. 
Multimedia features:
Audio Station:
Enjoy high-quality playback, listen to radios, manage own music collection, create personal playlist and share with friends on Audio Station and its mobile app DS audio everywhere.
Photo Station:
Photo Station is built for professional photographers to manage photo storage, share and access portfolios on the go, collect client feedback, and a lot more for professional as well as for personal usages.
Synology Moments:
Gather all your photos and videos in one private place and organize them in an entirely new way. Synology Moments is the brand new photo solution for personal and home use, offering a modern browsing experience with the image recognition technique.
You can take photos to capture all the meaningful moments in life. Synology Moments saves all of your photos in one secure place on your NAS, conducts facial and subject recognition locally on your NAS, without needing to worry about any potential leak of personal data. Just take photos and all your extraordinary moments will be perfectly organized for you.
Video Station:
Video Station helps you manage all the movies, TV shows, and home videos on your Synology NAS. Moreover, it can stream videos to various devices – computers, smartphones, media players, and TVs – to provide you with non-stop, fun watching experience.
Loaded with Easy file access; with QuickConnect feature, one can access files on Synology NAS over the Internet without the hassle of setting up port forwarding rules, DDNS, or other complicated network settings. QuickConnect allows connecting via a secure, customizable address so that one can instantly access media and work files on any Internet-connected device with no additional charge.
And in order to support these advancing technologies, Synology mobile applications are crafted/designed to allow quick and secure access to the data by offering Seamless integration with the mobile devices.
Price and Availability:
DS218j is now available in India on Amazon and offline channels.