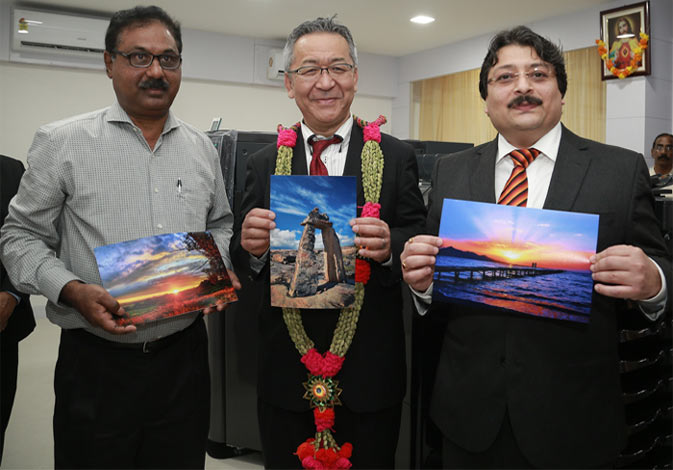 Canon sets the benchmark for highest quality of photo printing
Canon India, the imaging leader in the country, is all set to reinforce its foothold in Digital Photo Printing with the seventh installation of its flagship offering; DreamLabo 5000. The photo printing marvel from Canon India's Professional Printing Products portfolio was installed recently at Photopark Digital Press at Padma Junction in Kochi.
Present in the city for the inauguration, Mr. Kazutada Kobayashi, President & CEO, Canon India said, "At Canon India, we take utmost pride in offering innovatively preeminent solutions to the imaging industry. Understanding the significance and relevance of wedding culture in India, we are elated to extend the prowess of Canon DreamLabo5000. This is our seventh installation for the marvel in the country up until now, and it gives us immense pride to share that India is leading our South East Asia chart in adopting this technology. Kochi has been a significant market for us, with this being the city's third installation, we would like to congratulate the region for being an early adopter of our eminent inkjet photo printing technology."
"We take pride in being enablers in the imaging arena; with our complete portfolio of input to output solutions. Our products like EOS 5D mark IV and DreamLabo 5000 have revolutionized the wedding photography and printing industry in the country," added Mr. Kobayashi.
Mr. Puneet Datta, Director, Professional Printing Products, Canon India, said, "There has been an increasing demand for high definition photo shooting and printing in India which is led by wedding photography segment. Along these lines, there has been a tremendous opportunity for premium photo printing in the industry. Our DreamLabo5000 has become a benchmark for the best imaging solution for the industry globally. Delivering a new standard of photo quality coupled with high productivity, DreamLabo5000 revolutionizing the photo printing industry by providing a high quality alternative to the traditional silver halide technology. Furthermore, the premium quality printing offers both the production photo and the small batch print-on-demand (POD) markets substantial new revenue streams. Our partner; Photopark Digital Press has been addressing customer's printing requirements, for three decades now. We look forward to contributing to their endeavor of staying a step ahead of their customer's demands."
Mr. Louis Francis, Managing Partner, Photopark Digital Press, said, "We are committed to provide the best printing solutions to our customers, which include professional, amateur and freelance photographers. Our Photopark group has evolved over the last thirty years, as per the needs and demands of the customers. We are the pioneers of silver halide printing in the region and the quality of our colour prints is a benchmark in the industry. With the installation of Dreamlabo 5000, we are looking forward to revolutionize the wedding printing industry with Canon's renowned inkjet photo printing technology. We are confident that DreamLabo 5000 with its state of the art technology will strengthen our endeavor of increased and effective customer outreach and will contribute towards our growth".