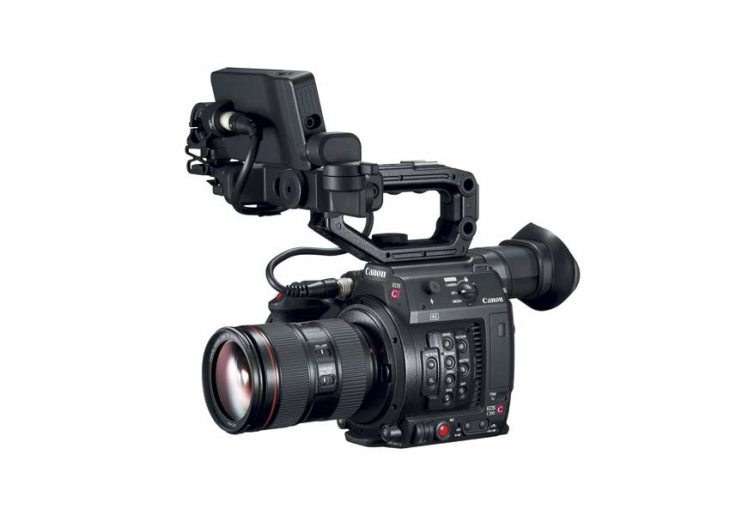 Canon India's Cinema and Pro DV project 'Future Broadcasting' hosts its 9th Edition
Inaugurating the ninth edition of Canon India's extensive Cinema and Pro DV project 'Future Broadcasting', Bengaluru is all set to welcome the future of cinema trends. The project accomplished in collaboration withleading industry experts, including Avid/Real Image (a division of Qube Cinema Technologies), LiveU, G-Technology from Western Digital and Atomos, witnessed a series of workshops and events, designed to give hands on experience on products like Cinema EOS C200, Cinema EOS C300 Mark II and XA 15 & XF 405 along with ME20F-SH(Multi-purpose camera). With a firm focus on its objectives, the project got industry experts to demonstrate the workflow of these superlative solutions, confirming that these solutions will lead the forthcoming trends in the Cinema and PRO DV segment.
The first leg of the workshop was organized in Guwahati and Imphal respectively in January 2018. The subsequent events were planned in Bhubaneshwar on February 19, followed by Kolkata on February 21st and Jaipur on March 18th.  Following the success of the project in National Capital on 27th of April, Hyderabad on the 30th of May and Chennai on 1stJune ,the project now ventures into Bengaluru and will be followed by Kochi.
Commenting on the growing trend and demand for better solutions in Cinema and PRO DV segment, Mr. Eddie Udagawa, Vice President, Consumer Imaging and Information Centre, Canon India, said,"We are elated to bring our trailblazing project 'Future Broadcasting' to Bengaluru, an endeavor towards expanding our portfolio and tap the mainstream cinema business all over India, including eminent, producers, broadcasters and renowned documentary film makers. In line with our commitment towards, 'offering the best of imaging experience', we have also partnered with leading industry players, who further confirm the status quo of our cinema solutions in the near future.With fiuture broadcasting, we have been able to take our leading-edge solutions in Cinema and Pro DV segment to every corner of the country. Being a city filled with diversity and  rich heritage, Bengaluru becomes a great spot for Future Broadcasting."
Talking about their partnership with Canon, SathishKumar.P, General Manager of Real Image (a division of Qube Cinema Technologies), said, "Future Broadcasting has been a perfect platform for us to showcase an overview of the Avid Media Composer editing application and Avid Newsroom workflows, Avid Storage, Asset Management, Cloud based and Social Media Workflows.We will also showcase Media Composer | First. The free-to-use Media Composer | First provides users with a comprehensive yet simple editing toolset with many of the same features and functionality that award-winning Media Composer editors rely on, in a new powerful, streamlined interface."
Talking about the evolution of video transmission units and its association with Canon, YaalEshel, VP Sales, LiveU said, "We're glad to partner with Canon and Avid to present our latest solutions, including the LU600 HEVC, offering unmatched quality and reliability for newsgathering, sports and any other live video productions Ever since the invention of cellular bonding in 2006, and the launch of LiveU's portable live video transmission units, it has replaced the SNG trucks, offering better mobility and cost-effectiveness for global newsgathering.We will also demonstrate LiveU Solo, our cost-effective plug-and-play device bringing broadcast-quality live streaming to the online market."
Another integral partner for the ninth edition of Future Broadcasting is Atomos, an Australia based organisation, making high quality camera monitors and recorders. Speaking at the occasion, Mr. DilipKathuria, CEO, Atomos, said, "We are delighted to associate with Canon and exhibiting our CDM Technologies and Solutions (CDMTS) at 'Future broadcasting'. The idea behind this association is to not only showcase the future of cinema technology, but also the associated technologies required to sustain the production.We will also demonstrate LiveU Solo, our cost-effective plug-and-play device bringing broadcast-quality live streaming to the online market."
Commenting on the importance of storage, Khalid Wani – Director – Channel Sales, India, Western Digital, said, "With an aim to empower professionals to capture their dreams, enhance their storytelling, and bring to life their moments of inspired creativity,we enable content creators to capture and tell their stories. Future Broadcasting is an ideal opportunity for us encompassing everything that has to do with cinema and filming and storage is an important part of the whole process."