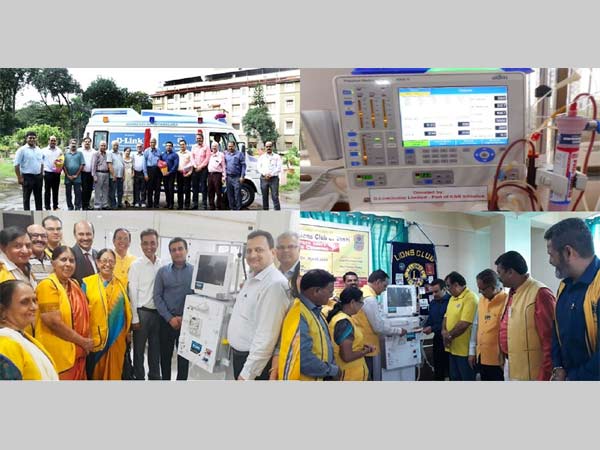 D-Link creates impact through its CSR efforts in Healthcare domain
D-Link (India) Limited one of the leading networking brands in the country through its Corporate Social Responsibility (CSR) wing has been working relentlessly on various social welfare projects with focused efforts on community wellbeing & sustainable development.
In recent times D-Link CSR team has been working with various organization & institutes in healthcare space. These projects are targeted towards providing quality healthcare to those from socially marginalized and deprived sections of the society. In its earnest attempt to bring about change through its CSR programs D-Link has made some significant contributions like providing Advanced Life Support Cardiac Ambulance to a hospital, donating over 8 Dialysis machines to various medical centers, supporting government healthcare initiatives including the PM Care Funds and much more.
Expressing is view on healthcare initiatives under CSR purview of the organization, Mr. Tushar Sighat, MD & CEO – D-Link (India) Ltd. said, "A small effort is all it takes to make a lasting impact. We recognize that our actions as a responsible corporate entity can lead to progressive change in the society that we operate in. At D-Link Social welfare is an integral part of our value system. Our commitment to Corporate Social Responsibility (CSR) is focused on initiatives that make a constructive contribution to the community. Healthcare is one such area that we have been extensively working on, and we look forward to helping those in need"
Some of D-Link's earnest CSR activities in Healthcare sector in recent times
Daulatbanoo Merwan Khodadad Irani Dialysis Centre – Sponsored dialysis machine
PM Care fund – Committed Rs. 35 lacs in nations service towards its fight against COVID-19 Pandemic in India
Donation towards CM COVID Fund (Maharashtra) – Contributed Rs. 20 lacs to support the state government tackle the impact of the coronavirus pandemic
TATA Memorial Hospital – D-Link contributed Rs. 5 lacs to TATA Memorial Hospital towards procurement of Personnel Protective Equipment (PPE) for COVID-19 outbreak preparedness at the hospital
Lion Kartar Singh Hospital – D-Link donated Dialysis unit
Jiwdani Dialysis Center – D-Link donated Dialysis unit
Masina Hospital – D-Link donated an Advanced Life Support Cardiac Ambulance
Lion S.P.Jain Eye Hospital And Diagnostic Centre – D-Link donated Vision Screening Machines to the hospital
Shree Multan Sev Summit – D-Link sponsored a couple of Dialysis machines that have been installed at BSES Hospital in Andheri, Mumbai.
Prabhodan Dialysis center – D-Link offered financial assistance to the center.
Ramakrishna Mission Hospital & Charitable Dispensary – D-Link sponsored medical & dental equipment's
Holy Spirit Hospital – D-Link sponsored Color Doppler Unit
D-Link strongly believes technology is an enabler in building a sustainable society. Over the years its networking innovations have enabled individuals & enterprises with more opportunities, more productivity, and more value. As part of Corporate Social Responsibility (CSR) program D-Link has been working extensively on focused welfare projects in Healthcare & Education space.