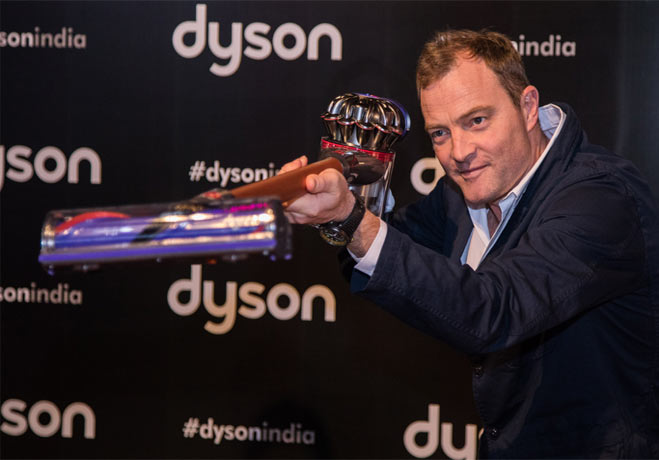 Dyson: UK's leading technology company launches latest product line-up in India
Dyson, the global technology company and developer of high-performance machines, today announced the launch of its latest products in India. It also officially opened doors to the country's first Dyson Demo store in DLF Promenade Mall, New Delhi. Dyson will invest more than INR 1200 crores in India over the next five years, having received its license for Single Brand Retail Trade in 2017 through the 100% FDI route.
Founded by British inventor and entrepreneur, Sir James Dyson OM, Dyson has brought its latest 'problem solving' technology to India; including its cord-free vacuum cleaners (Dyson V7 &V8 range), revolutionary hairdryer (Dyson Supersonic™), and its range of intelligent air purifiers (Dyson Pure Cool™ Link).
Speaking at the launch event today, Jake Dyson, Chief Engineer and member of the Dyson Board, said, "We are pleased to bring our latest technology to India. Dyson engineers have spent time undertaking research in homes across India to understand how our technology can help solve problems. We are launching a range of products, using our patented technology, which we believe will bring meaningful benefits."
Describing Dyson's problem-solving approach to developing technology, he said, "Dyson engineers always start with science and technology: we harness this to improve products, make them exciting and pleasurable to use. We encourage our engineers to have a fearless approach to experimentation and failure in order to make discoveries and develop products with levels of performance that no-one has experienced before."
The Dyson Demo Experience
The first company-owned Dyson Demo store has opened today at DLF Promenade mall in Vasant Kunj, New Delhi. Dyson will quickly expand, opening a total of 20 stores in the country.
Dyson puts its technology, products and customers at the core of its business. The Dyson Demo stores are designed to encourage people to pick up, test, and understand Dyson technology. Interactive demonstrations bring the science at the heart of its machines to life; Dyson experts are available to explain products and provide recommendations to best suit customers' lifestyles. An in-store salon offers complimentary styling appointments with the Dyson Supersonic™ hair dryer.
In addition, Dyson will make its machines available through its new Dyson India website www.Dyson.in, and has partnered with Amazon India. With its online channels, Dyson will initially cover Delhi, Mumbai and Bengaluru, and will expand to other metros across the country over the course of the year.
In a global first for Dyson, it is launching concierge in-home services in India, which will offer customers the complete experience of Dyson's revolutionary products in the convenience and comfort of their homes. The service will begin in Delhi and Gurgaon and expand to the complete Delhi-NCR region, Mumbai and Bengaluru this year.