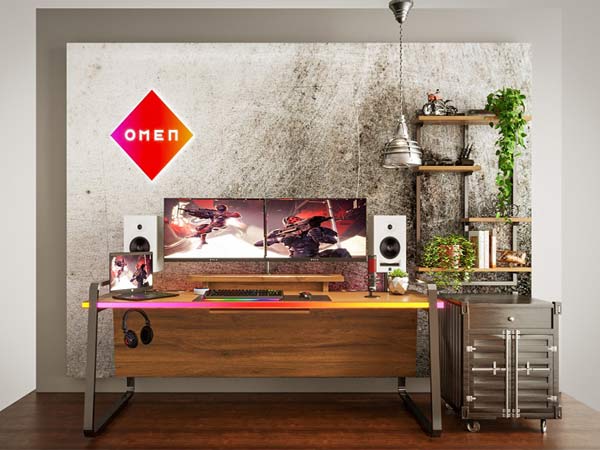 HP Takes Young Indian Gamers To Global Stage With A 12lacs Scholarship Deal
Gamers are staring at a unique opportunity to win an exciting e-sports scholarship at this year's OMEN FanFest where they will get a chance to win an OMEN crib- gaming setup designed for an ultimate gameplay experience.
The scholarship will be awarded to talented Indian gamers who need financial support as part of the e-sports Gold Quest Scholarship. 
HP India today announced the inaugural 'esports Gold Quest' scholarships at the OMEN FanFest 2020, in support of the rise of PC Gaming culture in India. 
The 'esports Gold Quest" scholarship is a program that will provide gamers with the necessary financial support, equipment, skills, and exposure to help them in their quest to compete on the global stage and become future esports stars.

The scholarship, offers a full esports kit, salary, expert mentoring, and international exposure where they can win 

Interaction with India's leading esports athletes, pioneers, and entertainers and a chance to learn from their inspiring stories

The opportunity to become the fifth member of the HP OMEN Squad and more
Competing With the Bests of the World
eSports has broken all boundaries and has merged with popular culture. This has made such an initiative all the more crucial. So, the OMEN FanFest has given it a  global platform by bringing together the who's who of eSports, contemporary culture, and the gaming world which will celebrate PC gaming like never before. 
Ketan Patel – Managing Director, HP India Market said, "Gaming and esports are among the fastest-growing competitive pursuits in India and globally. It is a stage on which Indian talent has the potential to compete with the best in the globe. As a market leader, we are working towards making the gaming ecosystem more inclusive for everyone, fueling the passion in gaming, and providing a launchpad for budding esports talent in the country. The scholarship program announced today in is in line with our philosophy of 'Play to Progress' and we hope to see champions at the world stage from India soon." 
As a confluence of gaming and popular culture, the OMEN FanFest will bring together some of the biggest names in the world of esports and entertainment. These include Tirth Mehta, India's first esports medalist; Ulrich Schulze, SVP, Product  Management at ESL; Akshat Rathee, MD & Founder, NODWIN gaming, Abish Mathew- Standup Comic and other enthusiast gamers among many more
Empowering Indian Gamers With the Right Tools
This is HP's effort in recognizing the rising talents in eSports as it becomes a global phenomenon and nurturing these talents to reach their highest potential by offering them the best tools, expertise, and exposure needed to achieve worldwide success.
As a part of this scholarship, 3 applicants will be selected and offered an annual scholarship worth 12 Lacs each along with a full esports kit from OMEN, a monthly salary of 50k, and an international training stint.

The scholarship is open for all Indians of 16-20 years of age.

Interested people can join the national talent hunt beginning from January 2021. 

After 6 months of analysis, the final selections will be made in June 2021. 
Become A HP OMEN Squad Member
The OMEN FanFest will also feature a contest that will offer participants the chance to become the fifth member of the HP OMEN Squad – which brings together people of diverse origins with one unifying goal to merge gaming with mainstream culture.
Current members of the OMEN Squad include esports pro gamer Hellranger, professional live streamer Manasvivi, gamer, and content creator Ocean Sharma and stand-up comic  Abish Mathew.
Win the Ultimate Gaming Setup
HP has announced the launch of  OMEN Crib – a gaming setup for the ultimate gaming experience that comes with a dual monitor desk, keyboard, headset, mouse, mousepad, speakers, and the OMEN gaming chair – all in a minimalist but stylish package. This will enhance the gaming ecosystem and make it reach the next level. 
The whole December gamers can win an OMEN Crib every week through the contest on Flipkart