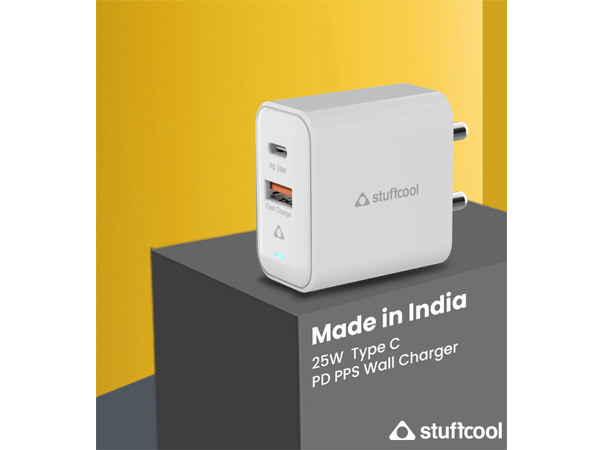 Stuffcool launches Made in India 25W PPS Wall Charger
Stuffcool, India's leading tech accessory brand has launched its latest innovation – A Made in India 25W PD PPS Fast Charging Wall Charger – the Flow 25. The Flow 25 is a dual port charger, with 25W Power Delivery and PPS Type C Port and an 18W QC3.0 port, perfect for fast charging the recently launched Samsung Galaxy S22, Samsung Z3 Fold, iPhones, iPads and other flagship devices – packed in a size that fits in your palm.
The Flow 25 is BIS Approved and Made in India, meeting all Indian safety standards and is also equipped with a 6 Layer safety protection. The Flow25 is also equipped with an Auto Detect IC, delivering only the required power to the connected device ensuring safety of both, the charger and the device.
The Flow 25 is the perfect Charger to be paired with the recently launched Samsung S22, that requires 25W of PPS Power. Flow 25 is the only Made in india 25W PPS Solution currently Available! Stuffcool also has the Napoleon GaN Charger that is perfect for the S22 Ultra device, since it requires 45W of PPS Power!
The Flow 25 is available for purchase on stuffcool.com and major Offline Retail stores.
Tech Specs:
Input: AC 100-240V (50-60 H2)/0.4A
when used Individually
Type C (PD3.0) Output : DC 5V 3A, 9V 2.77A, 12V 2.08A.
PPS: 3.3V~11V 2.25A (Max: 20W)
USB A (QC3.0) Output : 5V 3A, 9V 2A, 12V 1.5A
when used simultaneously
Type-C + USB A : 5V 3A