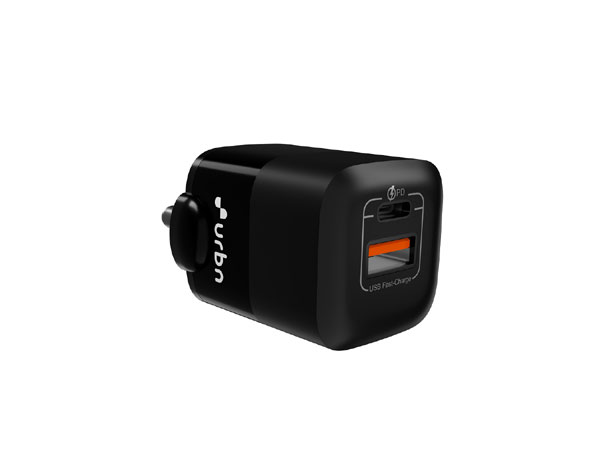 Urbn launches its Black Edition Premium Range – India's Superfast Universal Charging Solution
Urbn has unveiled its premium range of products called the Black Edition. The range currently consists of ultra-compact and high-capacity power banks, cables and adapter. The products are of exceptional quality and not only do they look good but also have a superior feel to it. These products come with upgraded technology that support high speed charging for all devices. The range is exclusively available online on amzon.in and other leading retail stores for a range of Rs.1500 to Rs.3000.
The range consists of the 10,000 mAh Nano power bank which is one of the smallest power banks available in the market globally. The power bank is equipped with high density lithium-ion battery cells used in E-Vehicles which allows 20 Watts of high speed in a compact size along with extended battery lifespan. This power bank can charge your gadget at 50% faster speed and takes half the time to recharge itself as compared to a standard power bank.
Wireless charging phones have become increasingly popular and for those looking for an on-the-go solution there is a 10,000 mAh wireless power bank that delivers both 15 Watt of fast wireless charging and 22.5 Watt super-fast wired charging. This power bank doubles up as a wireless charging pad while its getting recharged, so you can enjoy a hassle-free charging experience at home and on the go.
Travelers and users who are power hungry can charge their phones up to four times on a single charge with the 20,000 mAh ultra compact power bank. As compared to a standard power bank, this power bank delivers 22.5 watts of superfast charging that can charge your gadget at 50% faster speed and takes half the time to recharge.
To add to the universal charging solution, the black edition expands to the powerful 4 in 1 cable and the 33W Adapter.
The 4 in 1 cable is designed to be universally compatible with all devices and charges up to 100W speed. Its unique design comes with 4 different ports that allow charging any iOS, Android and Type-C Device including the more power demanding laptop. Thanks to the quad design, you can charge any device from any power source with one 4 in 1 cable.
The 33W GaN Adapter supports fast charging across multiple devices from various brands. The adapter is equipped with GaN technology a material used in the aerospace and military fields. This technology allows the adapter to be 50% smaller, lighter, faster and cooler than standard adapters.
Commenting on the launch, Sagar Gwallani- CEO and Co-Founder, "We have been in the business of providing power solutions for over 10 years and our products have evolved with time, thanks to our tech team! The Black Edition is a premium offering keeping the "Consumer First"  philosophy in mind. With the ever changing technology, Urbn products will serve as a universal charging solution. I am convinced that our products will complement the user's lifestyle and suite their daily, business and travel needs. Team Urbn is excited and strives to continue to bring to its consumers more offerings with the same philosophy. For now, Happy Charging!"