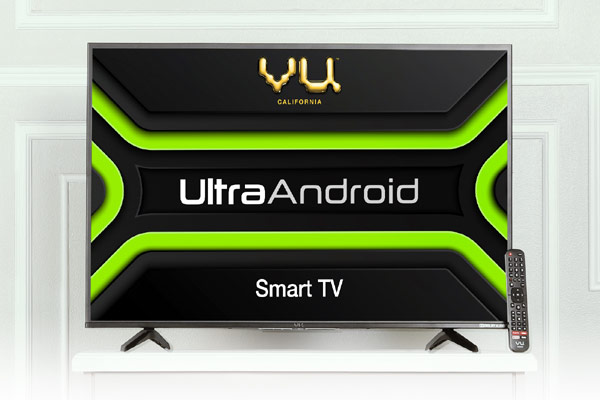 Vu Televisions launches the Vu UltraAndroid TV on Amazon India
Vu Televisions is all set to launch their new range of televisions – the Vu UltraAndroid TV. This festive season, Vu Televisions is extremely bullish about their growth to double in comparison to last year.
Devita Saraf, Chairman, Vu Televisions said: "Over the years, Vu Televisions has revolutionised the video viewing experience for their consumers with a perfect mix of innovation and technology. Our consumers comprise primarily of the young, educated India whose preferences are constantly evolving. Vu Televisions caters to exactly that audience segment that is not only looking for great picture and sound quality, but new innovative experiences that are a part of their day to day lives."
The Vu UltraAndroid TV is not just an ordinary television set, but a complete entertainment package in itself. Vu UltraAndroid TV's exquisite clarity and immersive surround sound is an asset to the television's features. The extraordinary resolution, impeccable connectivity and easy access to the world of Google makes the television a must-have in your living rooms.
The VU UltraAndroid television comes with a set of power packed specifications. The Vu Ultra Android TV has a Pure Prism Grade High Brightness Panel, along with exemplary Adaptive Contrast to maintain the perfect colour accuracy for pragmatic clarity. The Vu UltraAndroid TV gives an approachable access to the world of Google with an additional 8GB Storage. The ActiVoice search and personalized recommendations provide more entertainment and less hassle.  The Vu UltraAndroid TV range is powered by the latest version of Google Android 9.0 and also has Hotkeys on the remote for Netflix, Amazon Prime Video, Hotstar, YouTube and Google Play which creates an effortless experience for users while watching content. The TV set also comes with built-in Dolby and DTS Surround Sound Technologies for the best sound experience. VU Ultra Android TV has built-in Google Chrome cast feature through which one can simply casts movies, shows and photos from their Android, iOS, Mac or Windows device to your television set. It also has Built-in Bluetooth 5.0 version as well.
The range of televisions will only be available on Amazon India on 28 September 2019, exclusively for PRIME members and for non-PRIME members from 29 September 2019 onwards.