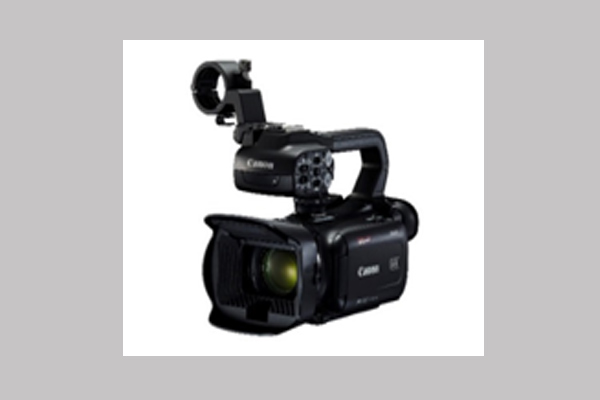 Canon boosts XA Series with first 4K-capable professional camcorders
Canon India announced the launch of four new XA series professional-use camcorders capable of capturing video in 4K 25/30p . The XA50/ XA55 is equipped with 1.0 type CMOS sensor for high image quality; and the XA40/ XA45, a compact, lightweight model is equipped with a 1/2.3 type CMOS sensor. These newly announced models are the organization's first XA series models, which are capable of capturing 4K video.
Commenting on the launch, Mr. Kazutada Kobayashi, President and CEO, Canon India, said, "At Canon, we are at the forefront of strengthening the imaging culture in the country and hence we consistently develop products in line with requirements of the evolving behavior of our customers. With its beautiful landscapes and rich and diverse culture, India is one of most beautiful countries in the world, thereby becoming any videographer's delight. With our vision of elevating the imaging culture in the country and keeping innovation and quality in focus, we are happy to introduce the four new XA series for enabling video content creators to strengthen innovations in the Indian market. We have designed this series of camcorders for professional use, keeping in mind the high degree of mobility required for on-location videography in fields such as weddings, broadcasting, webcasting, reporting, short films, documentary and event shooting. With this launch, we aim to widen the connect with both budding and professional videographers across the country."
Speaking about the product, Mr. Eddie Udagawa, Vice President, Consumer Imaging and Information Centre, Canon India said, "Video content today has become one of the most popular form of communication and storytelling. As a medium of strengthening connect, to consume or make content, video is one of the preferred choices, due to its greater recall value. With the aim of empowering the videographer's community, the XA series will focus on creating compelling content for various forms of videos. The XA40/ XA50 is preciously designed to cater to professional domains like weddings, events, short films and short documentaries while XA45/ XA55 will cater to Weddings, ENG, Education, Webcasting and documentaries. We are positive that our XA series, with its 4K video capability and DIGIC DV 6 Processor, will support our customers in delivering high image quality and desired impact. The XA series comes in a compact and lightweight body keeping in mind the high degree of mobility required for on-location videography, designed for both professional and enthusiastic videographers."
With its 1.0 type CMOS sensor, the XA50/ XA55 delivers the high image quality and imaging performance required to support professional users, while the compact and lightweight XA40/ XA45 realizes superb mobility and operability ideal for both professional and enthusiast videographers.
The XA50/ XA55 is equipped with a 1.0 type CMOS sensor – a first for the XA series – and a DIGIC DV 6 image processor, along with a 4K-compatible 15x optical zoom lens that  optimizes 4K 25/30p image capture across the entire zoom range, from 25.5mm at the wide-angle end to 382.5mm at the telephoto end1. With Canon's Dual Pixel CMOS AF technology, the XA50/ XA55 achieves smooth, high-performance autofocus and subject tracking during shooting. Even during 4K shooting, when high-precision is crucial, intuitive touch panel operations enable quick and accurate focusing.
The XA40/ XA45 features a 1/2.3 type CMOS sensor, a 20x optical zoom lens and a DIGIC DV 6 image processor, all in a compact and lightweight body measuring approximately 131mm (W) x 180mm (H) x 231mm (D) and weighing approximately 1.13kg. In addition to 4K 25/30p video capture and the large zoom range of 29.3mm at the wide-angle end to 601mm at the telephoto end, the XA40/ XA45's over sampling HD Processing function effectively utilizes data acquired by the 4K imaging sensor to record full HD video with even higher image quality than its predecessor, the XA30/ XA35 (released in December 2015).
Additionally, XA55 and XA45 also comes with 3G SDI terminal port which is the exceptional feature over XA50 and XA40 respectively.
The XA45 and XA40 will be available in April 2019. The XA55 and XA50 will be available in June 2019.