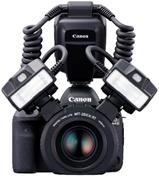 Take Creative Control over Photography with Canon's latest range of Lenses
Canon launched of the TS-E50mm f/2.8L MACRO, TS-E90mm f/2.8L MACRO and TS-E135mm f/4L MACRO and EF85mm f/1.4L IS USM and Macro Twin Lite MT-26EX-RT in the Indian market.
The latest addition to Canon's TS-E series, TS-E50mm f/2.8L Macro, TS-E90mm f/2.8L Macro and TS-E135mm f/4L Macro Lenses are equipped with advanced optical technologies and macro photography capabilities to deliver stunning images.  Offering outstanding optical performance with edge-to-edge resolution, the trio Macro keses are developed to cover wide genres of photography, including studio, architecture and macro, thus rendering them perfect for users seeking to expand their shoot perspectives.
Complementing the trio lenses, the all new Macro Twin Lite MT-26EX-RT is an external flash unit designed for macro photography. The Macro Twin Lite MT-26EX-RT comes with dual flash heads that can be adjusted independently and removed from the mounting ring, thus making it suitable for an extensive range of close up, nature and macro photography applications.
Lastly, complementing the line-up of L series lenses, the new EF85mm f/1.4L IS USM is equipped with an image stabilisation (IS) performance of up to approximately 4 stops, a 9-blade circular aperture and silent USM motor, making it perfect for photography needs of professional and amateur photographers.
Commenting on the launch, Mr Eddie Udagawa, Vice President, Consumer Imaging and Information Centre, Canon India, said, "Canon is committed to bringing ground-breaking innovation to end customers and elevate their professional and personal photography experiences. Launching today in the Indian market, the latest range of Macro, L series lenses and Macro Twin Lite are designed to meet the diverse needs of the professional as well as amateur photographers to deliver excellent image quality with high resolution, high contrast and low distortion. We are confident that the latest range of Macro products will be well-received by photography enthusiasts in the country and will help them transform the smallest details to a surreal landscape."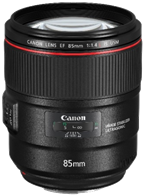 Product Specifications
TS-E50mm f/2.8L MACRO
Focal length:                           50mm
Maximum aperture:               f/2.8
Minimum focusing distance: 0.273m
Maximum magnification:       0.5x
Lens construction:                   12 elements in 9 groups
Filter size:                                77mm
Aperture blades:                     9
Length:                                    114.9mm
Weight:                                   Approx. 945g
The TS-E50mm f/2.8L MACRO will be available at the price of INR 172 995/U (inclusive of all taxes)
TS-E90mm f/2.8L MACRO
Focal length:                           90mm
Maximum aperture:               f/2.8
Minimum focusing distance: 0.390m
Maximum magnification:       0.5x
Lens construction:                   11 elements in 9 groups
Filter size:                                77mm
Aperture blades:                     9
Length:                                    116.5mm
Weight:                                   Approx. 915g
The TS-E90mm f/2.8L MACRO will be available at the price of INR 172 995/U (inclusive of all taxes)
TS-E135mm f/4L MACRO
Focal length:                           135mm
Maximum aperture:               f/4
Minimum focusing distance: 0.486m
Maximum magnification:       0.5x
Lens construction:                   11 elements in 7 groups
Filter size:                                82mm
Aperture blades:                     9
Length:                                    139.1mm
Weight:                                   Approx. 1110g
The TS-E135mm f/4L MACRO will be available at the price of INR 172 995/U (inclusive of all taxes)
EF85mm f/1.4L IS USM
Focal length: 85mm
Maximum aperture: f/1.4
Minimum focusing distance: 0.85m
Maximum magnification: 0.12x
Lens construction: 14 elements in 10 groups
Filter size: 77mm
Aperture blades: 9
Length: 105.4mm
Weight: Approx. 950g
The EF85mm f/1.4L IS USM will be available at the price of INR 117 995/U (inclusive of all taxes)
Macro Twin Lite MT-26EX-RT
G No. (Both tubes/one tube): 26/19
Flash coverage (top and bottom/left and right):  Approx. 65°
Recycling time (normal flash/quick flash), in-body: 5.5 sec/3.3 sec
Recycling time (normal flash/quick flash), external: 2.5 sec/2.0 sec
Power source: Four AA/LR6 alkaline batteries
Wireless master function: Radio / Optical
The Macro Twin Lite MT-26EX-RT will be available at the price of INR 64 999/U (inclusive of all taxes)