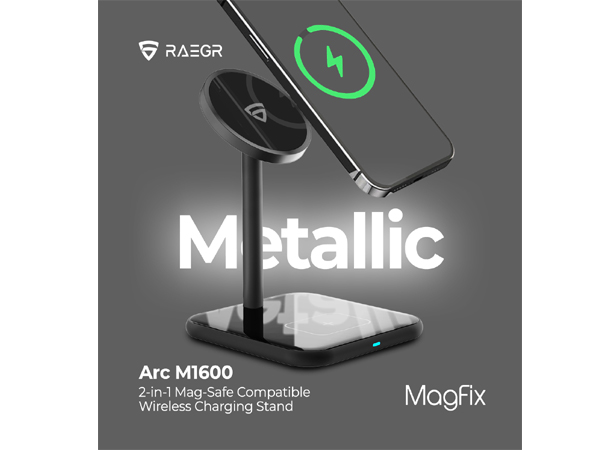 RAEGR launches 'MagFix Arc M1600' — an Elegant 15W Dual Wireless Charging Stand for Apple Devices
Consumer tech accessory brand RAGER, well known for its wide range of lifestyle and tech products, announces a premium and elegant dual wireless charging stand – MagFix Arc M1600 for MagSafe compatible Apple devices and other smartphones with wireless charging compatibility. The charger is capable of charging two devices simultaneously, which includes one Apple MagSafe-compatible iPhone and any Qi-enabled device.
Ajesh George, Managing Director — RAEGR, said, "Our latest MagFix charging stand made of a combination of aluminium and glass is built with precision and elegance to match your premium Apple iPhones. Ensuring that it safely charges with maximum performance, the MagFix Arc M1600 also helps as a desktop stand. The charging stand is a great choice for an office desk and also works for a perfect gifting option."
Gift your office desk a stylish new wireless charging stand to complement your Apple iPhone. The RAEGR MagFix Arc M1600 is designed using a premium and highly durable Anodized Aluminium Alloy body and is complete with a mirror-finished Tempered Glass top and anti-skid rubber feet. Built using two highly efficient wireless charging coils, the stand features powerful neodymium magnets for MagSafe-compatible iPhones and the pad is compatible with any Qi-enabled device. Aimed for simultaneously charging an iPhone and an AirPods, the stand helps double up as a convenient mobile stand wherein you can place your iPhone in both horizontal or vertical positions for work and play.
The RAEGR MagFix Arc M1600 is engineered to wirelessly charge your devices at the fastest speeds possible with an automatic and intelligent power output range from 5-Watts to 15-Watts. The charging stand is also enabled with power safety features which include protection for overcurrent, overheating, overvoltage, and short circuits. Thanks to the intelligent chip, it can identify wireless fast charging devices and smartly adjust power between 5W, 7.5W, 10W, and 15W.
The RAGER MagFix Arc M1600 is compatible with MagSafe-based Apple iPhones which include the upcoming iPhone 14 series, iPhone 13 Mini / iPhone 13 / 13 Pro / iPhone 13 Pro Max / iPhone 12 Mini / iPhone 12 / iPhone 12 Pro and iPhone 12 Pro Max. The M1600 will be available on Amazon.in with a 1-year Standard Industry Warranty, starting at Rs 3,999.