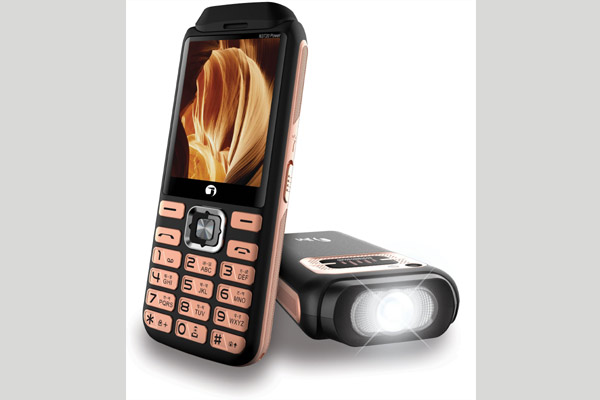 Jivi Mobiles launches power backup and music feature phone N3720
India's home-grown mobile phone brand Jivi Mobiles with its latest and revamped product line has brought back the era of traditional handsets – feature phones in a smarter way. The company has added another feather to its cap with the launch of its latest feature phone – N3720 Power in the market.
The phone is equipped with innovative feature of "Smart connect" which enables users to connect other Smart/feature phone with N3720 via Bluetooth enables receiving calls, sync Phonebook, SMS's and music library can be synced and played onto its boom speaker of another phone. It helps the user to save battery of his Smartphone if connected with N3720 power.
The phone is one of the most powerful feature phones in its segment with 2.8" display and powerful box speaker for powerful sound which provides a cinematic experience to the users. Also, N3720 Power is equipped with slots for three sim cards.
N3720 Power has been launched in two variants Black gold & Black blue (Colours) at an unexpected price range of Rs. 1799.
The phone is also equipped with the features like Smart Connect Powerbank which helps in charging other phone with Direct USB Charging Output, 4000mAh battery. Other features includes big LED torch, MP3 & MP4 player, wireless FM Radio, mobile tracker, power saving mode, auto call recording, 3.5mm audio jack, internet services and expandable memory up to 128GB.
With the launch of N3720 Power, Jivi Mobiles will enhance the user experience of the feature phone users in the country.
Mr. Harsh Vardhan said that: "Jivi Mobiles has created this phone keeping in mind the people of Need. The use of this mobile also caters to the needs of their private life. The sound of this mobile is so attractive that meets its entertainment demand and its battery quality also works like a torch and power bank for them.
We have always tried to live up to the reputation that we have earned. In a huge feature phones market,  Jivi Mobiles focus is to develop the feature phones which are easy to use, stylish, trendy, and colourful along with unmatched user experience. Our latest offering N3720 Power is an extension to our attempt of retaining the top position in the leader-board. This new phone will help us to strengthen our reach in the market across the country."