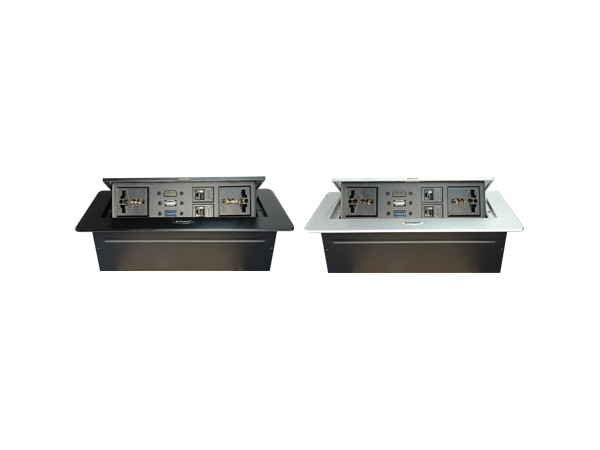 Eurotech Announces BestNet Cable Cubby Series
Eurotech Technologies, a leading provider of audio video solutions, today introduced the BestNet cable cubby enclosure series that conveniently combines intuitive AV control, connectivity, power and cable management.
Easy to install and integrate the table top flush mount cable cubby series is extremely intuitive, user-friendly, elegant and delivers indistinct. access for two three-plug power supply, two network ports, two USB & one HDMI Port.
Architecturally streamlined and an economical connectivity solution, featuring hydraulic push to open popup box, the BestNet cable cubby series enclosures are engineered for fast assembly and cables can be easily  connected at the back panel for a quick & easy installation.
Available in wide – range of finishes, these versatile modular enclosures offer convenient access to cable connections, providing discreet access to A/V cables and power. The BestNet cable cubby series enhances the audio and video connectivity experience, while switching easily between multiple sources and ideal for boardrooms, educational institutions, hospitality and large training facilities where multiple, distributed table-top cable connections are needed.
"The compact and durable BestNet cable cubby series for AV connectivity and AC power features a wide selection of optional connector combinations and designed to enhance the audio and video experience," said Mr. Anuj Jain, Managing Director, Eurotech Technologies.