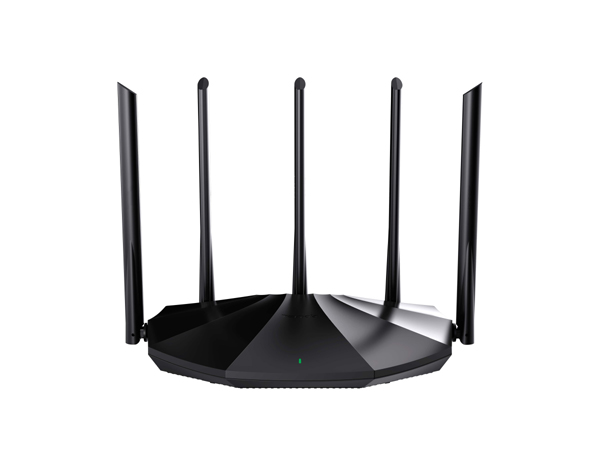 Tenda Announces Wi-Fi 6 Routers 'RX2 Pro' & 'TX2 Pro' for Home Users
Tenda announces the launch of two new high-performance AX-Series Gigabit Wi-Fi 6 routers for whole-home Wi-Fi coverage for medium and large households. Presenting the new Tenda RX2 Pro and Tenda TX2 Pro Dual-Band Gigabit routers featuring the next-generation Wi-Fi 6 technology. The high-performance wireless routers are aimed at those seeking a single router for their medium to large households.
The Tenda RX2 Pro and Tenda TX2 Pro offer the latest dual-band wireless technology featuring AX1500 (802.11 AX) that can deliver high-speed data up to 1.5 Gbps or 1500 Mbps. The 5GHz transmission mode can serve AX-compatible devices with speed of up to 38% faster than conventional Wi-Fi 5 (802.11 AC) routers with data throughputs of up to 1201 Mbps. The 2.4GHz transmission band offers a wider coverage with up to 300 Mbps. Featuring 5 external 6dBi antennas powered by a high-performance signal enhancement module for higher transmission and reception sensitivity, the wireless routers provide a superior whole-home Wi-Fi 6 coverage for medium and large households, and eliminate dead zones.
Equipped with a smart auto-switching dual-band operation, the router can be configured with a single common SSID for both the 2.4GHz and 5GHz bands. Connecting devices can automatically detect and communicate with the router with wider coverage and faster speeds. Not only this, the routers also offer next-generation technologies, such as MU-MIMO + OFDMA that significantly help improve the network performance to simultaneously serve multiple endpoints, reduce latency, and ensure stable connectivity. Non-wireless devices can also connect to the router using its physical Gigabit Ethernet ports for smoother work and ultra-speed networks.
Other features on the Tenda RX2 Pro and TX2 Pro include High class Security with WPA3, Guest mode Wi–Fi, Network Detection, Smart Power Saving, MAC Clone and IPV6 Protocol. Parental Controls are in-built that can help parents monitor and control their children's online behaviour to cultivate a better and healthier habit of web surfing. You can also blacklist/whitelist websites, and set bandwidth speeds and quotas to protect your entire family's online presence. The routers can be set up, configured and controlled from your browser or app, locally or remotely. They can also be configured to operate as a Universal Repeater (Client + AP) or as an Access Point.
Pricing and Availability:
Tenda RX2 Pro and TX2 Pro Wi-Fi 6 wireless routers are available in the market at a price point of INR 4,221 and INR 4,161 respectively. Users can purchase these products through all leading online and offline retail stores across India.