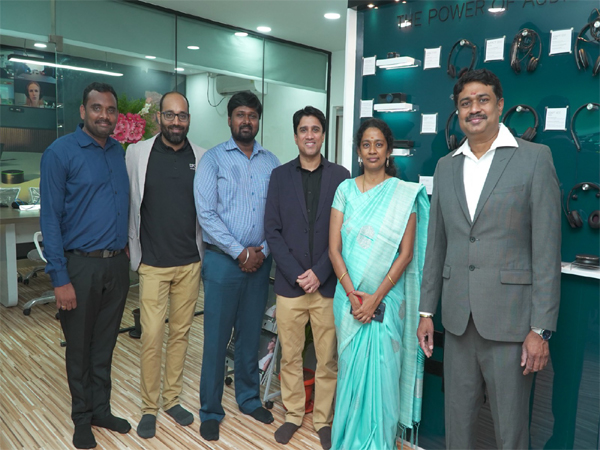 EPOS partners with Orisenc Technologies to Launch a new Experience Centre
EPOS a global audio and video brand announces the grand inauguration of the Hyderabad EPOS Experience Centre, a collaborative effort with Orisenc Technologies.
The high-tech facility of the brand promises how it will empower businesses around the world to communicate and collaborate better.
EPOS is eager to present its innovative products and technologies within this experience center, offering live demonstrations and Q&A sessions with their team of experts.
The Hyderabad EPOS Experience Centre stands as a demonstration of an unwavering commitment to innovation and excellence. It offers a unique opportunity for businesses in the region to explore the latest advancements in Audio and Video solutions to witness firsthand how it can revolutionize their operations.
EPOS joins hands with Orisenc Technologies, to create a hub of knowledge, innovation, and collaboration in the heart of Hyderabad. This collaboration brings together the expertise of both organizations to provide businesses with tailored EPOS solutions that drive efficiency, enhance customer experiences, and increase profitability.
Following the successful event, EPOS has rolled out its new product range to select partners and customers with wide availability plans and commitments.
Commenting on the occasion Mr. Sudeep Roy, Sales Director EPOS said, "We are thrilled to embark on this journey with Orisenc Technologies. The Hyderabad EPOS Experience Centre embodies our shared vision of bringing cutting-edge Audio and Video collaboration technology to businesses, empowering them to thrive in today's dynamic market. This marks the beginning of a new era in EPOS solutions, and we look forward to the positive impact it will have on businesses across Hyderabad."
Commenting on this exciting collaboration, Mr. Rajaram and Ms. Uma, Directors of Orisenc Technologies said, 'The Hyderabad EPOS Experience Centre is a witness to our commitment to innovation and customer-centric solutions. In collaboration with EPOS, we are confident in our ability to empower businesses in Hyderabad and beyond with futuristic Audio and Video solutions.  This marks the beginning of a transformative journey for businesses seeking to stay ahead in the competitive landscape in today's markets.'"