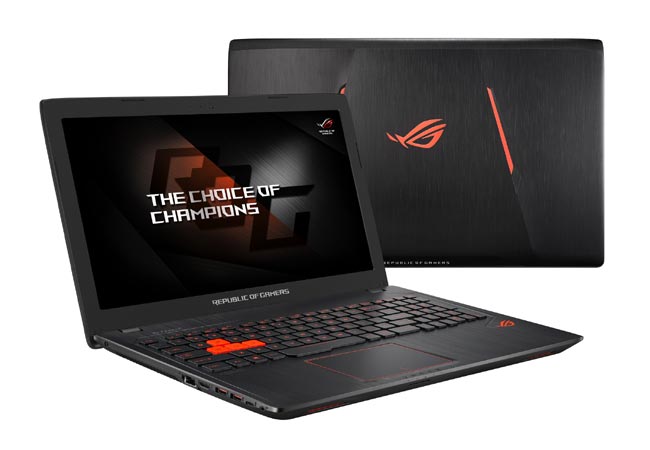 Introducing the ASUS ROG GL553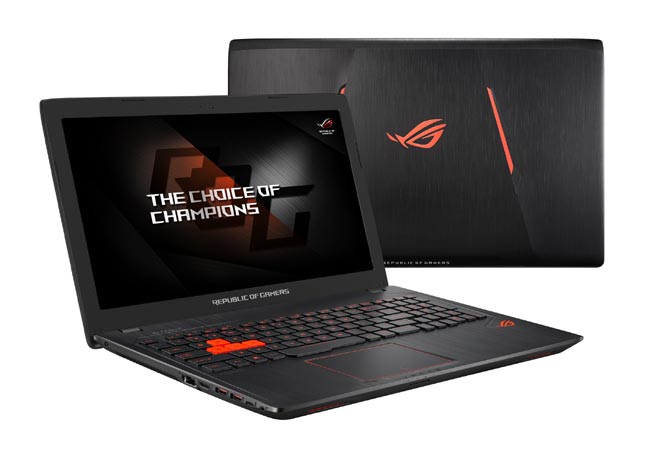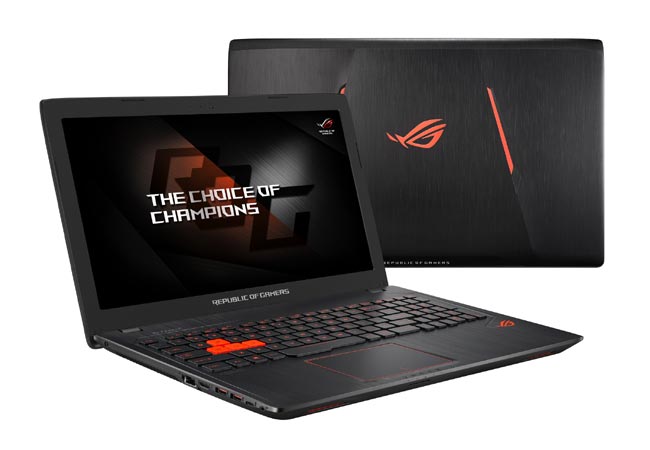 The ROG Strix GL553 series is a 15.6-inch, high-performance gaming notebook with distinct ASUS ROG gamer styling, that hits a great price-performance ratio. Designed for users who need the performance of a desktop gaming PC, workstation and/or entertainment center condensed into a portable notebook: with the latest Intel 7th Generation processors, Nvidia GTX 'Pascal' graphics, up to 32GB DDR4 and up to three storage devices, or, two storage devices plus optical drive.
The GL553 features Full HD IPS panels with a wide color gamut and crisp PPI. The displays are anti-glare, virtually reflection-free, and feature ultra-wide viewing panels. Outside, it has a brushed, black aluminum top cover that features an illuminated ROG logo. While inside, its intelligent Cooling Overdrive system gives customized fan speeds for better user-centric thermal management.
The AURA RGB backlit keyboard is specially designed for gaming and typing, with 30-key roll over, anti-ghosting and a 2.5mm travel distance that mimics the style of desktop gaming keyboards. The WASD keys are specially marked and the arrow keys are offset for ease of finding without looking down.
Product Positioning
The GL553 is designed for a great gaming and all-round high-performance notebook experience at an attractive price.
It's designed to look good in any environment, expressing a personality through its choice of distinctive materials, colors and shapes; brushed, black aluminum with illuminated red ROG logo, rather than being a plain and boring notebook that falls into the background.
Aimed at younger professionals who also enjoy regular-thru-heavy gaming sessions and premium entertainment when on the go, and in their spare time. To achieve this, it crams a powerful, yet efficient set of hardware into something that's very portable and easy on the battery.
What makes ROG stand out is its commitment to quality features, such as the AURA RGB backlit keyboard, and useful software package such as Cooling Overboost customizable fan control, AudioWizard, Gaming Center and GameFirst.
Great for Entertainment

Even when sporting the Full HD panel option instead, both IPS spec panels provide great color, wide viewing angles to share and impressive contrast. The Full HD model with TN display at 94% NTSC color gamut option is available for select cost-sensitive markets. ROG AudioWizard gives the user full control: tweak the audio, and cater for headphones or speakers plugged in and specific types of movies, music (videos) or gaming.
Intel 7th Generation Processors
Intel has heavily optimized its 14nm process (14nm+) for its 7th Generation products, with a 12% increase in process performance that gives a surprising jump over previous 6th Generation.
While instructions per clock (IPC) remains the same, there are improved clock speeds at the same or lower voltages. Combining these core speed boosts with an enhanced Speed Shift technology gives a boost to short-burst responsiveness of everyday computing. Note that this might not show up in heavy benchmarks, but it certainly positively affects user-experience
Further enhancements were made to its dedicated video and media processing hardware. Specific additions to the codec lineup include decode/encode support for 10-bit HEVC, decoding support 10-bit VP9 and encode support for 8-bit VP9. This translates to the addition of HDR support with tone mapping and Wide Color Gamut (Rec. 2020). All 7th Generation products can now decode and encode HEVC at up to 4K @ 120Mbps.
NVIDIA GeForce GTX 1050 (VD), NVIDIA GeForce GTX 1050Ti (VE)
Nvidia's latest 'Pascal' generation of graphics cards turn the idea of 'slower' notebook graphics cards entirely on its head – the GTX 1050 and 1050 Ti are both clocked higher than their respective desktop products, yet draw lower power. Nvidia has chosen the best GP107 cores for its notebook parts; and with good reason, since the thermal and power requirements are much more critical in the mobile environment.
Gamer-centric Keyboard Design
As you know, an RGB backlit keyboard is the hot feature demanded by gamers, and the GL553 has one! The AURA ROG application allows customization in the 4-areas of independent lighting with gradient color, optional effects and adjustable brightness. The scissor switch keys feature 2.5mm travel and provide a great responsive feel that's as good for everyday typing as it is specifically for gaming. It has tweaked WASD keys, a left-side enlarged space-bar and offset arrow keys and all keys feature anti-ghosting and with 30-key rollover.
Gaming Software Package
The ROG Gaming Center centralizes access to the GL553's software package. Here you'll find ROG-exclusive apps such as Cooling Overboost, and GameFirst.
OG Gaming Center
Launched via a dedicated button on the keyboard, the ROG Gaming Center is a portal to ROG utilities, apps and tools. It's a one-stop interface for monitoring and fine-tuning system components; for managing user-selected game profiles, keyboard profiles, macros and ASUS software direct from its easy user interface.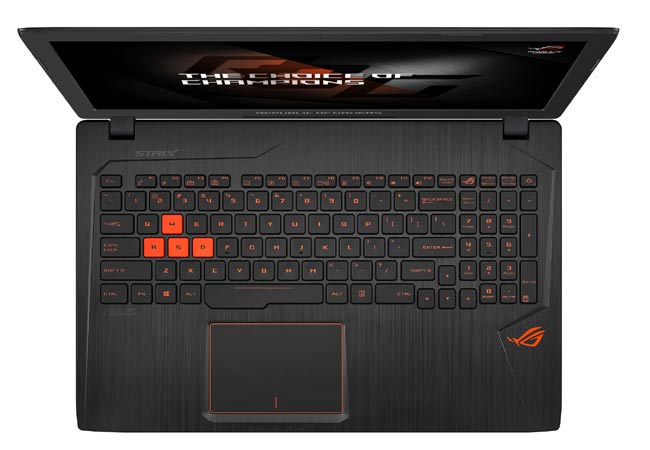 ROG GameFirst IV
The GameFirst utility adjusts the Gigabit Ethernet firmware to both boost game data bandwidth and minimize latency. It prioritizes game data packages, resulting in less server wait and reduced latencies to prevent dropped or delayed packages that can cause missed shots, in-game stutter or glitches. Remember: minimum lag, maximum frag!
GameFirst IV features an easy to use user interface and gamer-friendly features, with four modes: full optimization, game, media streaming and file sharing to intelligently and quickly switch. With an Additional Intelligent mode, Gamefirst IV automatically switches these modes based on your usage patterns.
For more fine-grained control, individual applications can be assigned a manual bandwidth control and list-based priority settings. You can also team multiple networks with the multi gate teaming feature and use these networks in parallel at the same time.
GameFirst IV also features helpful network monitoring, bandwidth test and network info functions, to make checking, testing and debugging any networking issues easy.
AURA RGB
The AURA RGB app is the center to adjust all the colors of the keyboard. The AURA RGB backlight has 4 zones of control and gradient color effects and adjustable brightness.
User Customizable Thermal Design
As you'd expect from ROG's constant innovation push and focus on user-control we have developed Cooling Overboost. It gives the user fan speed adjustments via Windows software, so the cooling can be controlled to exact user preference. Some people want it always cooler, some want it whisper quiet, and the software is intelligent enough to prevent a meltdown.