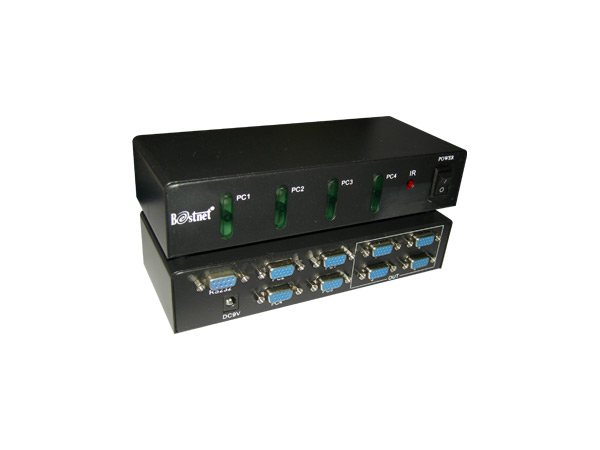 Eurotech Technologies Unveils BestNet VGA Switches
Eurotech Technologies, a leading provider of audio video solutions, today introduced a wide range of BestNet VGA switches that allows users to connect up to 8 VGA-based computers, DVRs, media players, projectors or TV with VGA port. The VGA switches makes it convenient to share one monitor between multiple VGA source devices, eliminating the hassle of constantly swapping cables between devices and monitor/display or expand the monitor display with more video/audio inputs. The wide range of VGA switches include: 2 in 4 out VGA switch, 2 in 2 out Matrix VGA switch, 4 in 4 out Matrix VGA switch and 4 in 1 out VGA switch W/Remote.
Supporting VGA, XGA, SVGA, UXGA,WUXGA and multisync monitors,  the maximum VGA resolution supported by these switching system can go up to 2048×1536 and compatible with all computer VGA and HD component video sources such as; PC, Mac, surveillance DVR, Blu-ray player, cable box, satellite receiver and video game consoles.
The plug n play switches features electronic switching for greater reliability and durability and designed to meet the most demanding requirements of video / audio signal switching.  The all-purpose VGA/RGB video audio switch is a highly cost effective solution for fast switching, ensuring crystal clear audio output. Enclosed in a compact and light weight chassis the VGA switches are built on a 1U rack mountable design with easy and fast input switching via push buttons on the front panel or through the included remote control. The BestNet VGA switches feature 450Mhz high bandwidth and advanced signal amplifier/extender function through the internal booster circuitry, making it possible to handle long distance transmission, while maintaining superior video integrity with clear images and crystal sonic quality outputs all the way.
"The versatile, compact and high performance BestNet switches are ideal for entry-to-middle level applications, "said Mr. Anuj Jain, Managing Director, Eurotech Technologies Pvt Ltd.  The switches allow users to seamlessly access and share one or more computing resources, he added.