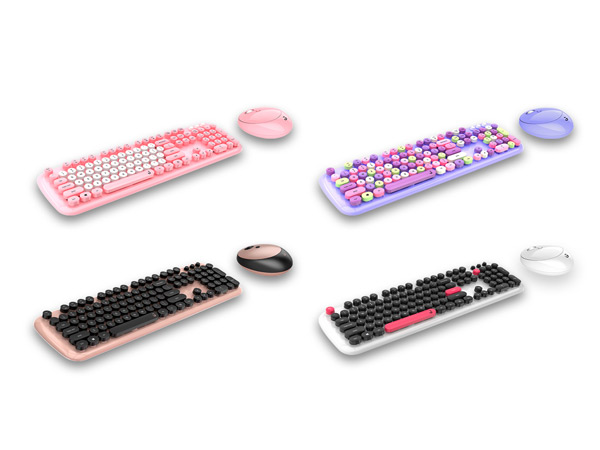 Retro-Style your Desk with 'iGear KeyBee Pro' Typewriter-Inspired Wireless Keyboard-Mouse Combo
Bring back the joy of retro-fashion typing, albeit in modern style, with a KeyBee. iGear now launches KeyBee Pro — a wireless keyboard and mouse combo — that's designed to give you the look and feel of using the classic old typewriter on your existing laptop or desktop. Featuring fully wireless connectivity, the keyboard is designed with classic typewriter-styled rounded multicolour keys on a 3-block full-size layout. The iGear KeyBee Pro is a classic add-on to your work desk at home or office.
Excited about the new KeyBee sequel, iGear Co-founder Neha Sharma said, "The iGear KeyBee Pro is our next offering for serious and professional users who prefer the full-sized 3-block layout while giving their desk a nostalgic look and feel of the reliable classic typewriter. Unlike the compact KeyBee, the KeyBee Pro has well spaced-out keys similar to the classic computer keyboard and adds even more comfort to typing. You can opt for multicolour key options or opt for a single colour layout. Check out the two limited edition KeyBee Pro — we are sure you will love it."
The iGear KeyBee Pro is a retro Typewriter-Style Wireless Keyboard and Mouse Combo for desktops and laptops, and can also be used on smartphones and tablets. The KeyBee Pro is alike the iGear KeyBee that sports rounded keycaps similar to the classic typewriter and works off a single 2.4GHz wireless nano USB receiver. The Pro additionally offers a well-spaced 3-block layout for extra comfort when typing, especially for those who need it for professional use.
The round keycaps add to the touch and feel of the old classic typewriter. The keys are highly ergonomic and easily removable for cleaning too. You can opt for multicolour keys or settle with a single-colour according to your choice. Complimenting the keyboard is the ergonomic wireless mouse that's designed with a round look to add to match the keys. Both the keyboard and mouse are connected to the source using a 2.4GHz nano USB receiver and run with AA cells that last for over a year using the auto power-saving feature.
So go ahead and add a dash of nostalgia to your desktop with the retro iGear KeyBee Pro classic typewriter-style wireless keyboard and mouse combo. Available in 4 variations of Bright and vibrant colours for just Rs 3,500. Also available in Limited Edition options featuring Rose Gold with Black and Rose Gold with White.