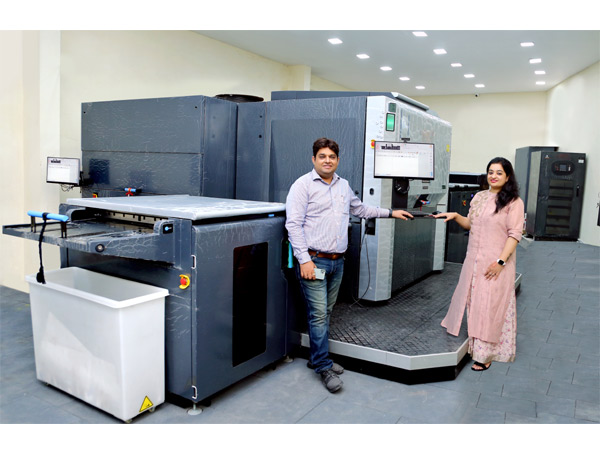 Ekta Graphics to lead smart digital printing innovation with India's first HP Indigo 12000 HD Digital Press
Adopting the new wave of digital printing innovations, Ekta Graphics and Printing Solutions has installed India's first upgraded HP Indigo 12000 with HP Indigo 15K value pack Digital Press at its facility in Roorkee, Uttarakhand. The printing solutions' company that caters to photographers & direct photo studio businesses will utilize HP Indigo 12000 HD Digital Press to venture in the new B2 size albums, Pharma Packaging and sheet fed labels.
Using HP Indigo 12000 HD Digital Press, Ekta Graphics and Printing Solutions aim to digitally revolutionize the picture, packaging, and commercial printing segment. Unlike conventional printing methods, HP Indigo HD Digital Press allows high quality printing, allowing the users to achieve its maximum color gamut. HP Indigo press offers special colours like LCLM, LLK, VPVG for an enhanced output. This installation will enable Ekta Graphics to provide a digital print solution in 20 X 30 size.
HP Indigo 12000 HD digital press offers a holistic printing solution with an intelligent color automation. It transforms the photo production to digital from silver-halide or toner processes to provide high quality, maximum color gamut, speed of production and media versatility. HP Indigo Press also helps in lowering environmental impact with silver-free technology, CO2 neutral manufacturing, and consumables recycling, resulting in a lower carbon footprint. Indigo Ink is environmentally safe since it does not require any solvents, chemicals or UV light.
Speaking on the installation, Nitin Sharma, Ekta Graphics and Printing solutions said, "We've been in the photo printing business for the last 75 years and therefore, understand that the quality of output should be as precise as the capture has been, with an enhanced colour accuracy and image quality. By being the early adopters of HP Indigo 12K HD in Photo printing business, we are committed to offer our consumers a faster turnaround time with A-grade quality. At Ekta Graphics and Printing solutions, we are on a mission to transform our business, achieving the highest standard of print quality, sustainability and quick service experience to our customers."
"Installing the first upgraded HP Indigo 12K HD in India has given us an early mover advantage. We are confident that this will further enable us to offer unique and innovative printing solutions to our existing customers, while we acquire new ones." he added.  
Ekta Graphics has recently expanded its operations to work with brands to fulfill the light packaging & labels requirement with this new acquisition. To facilitate this expansion, HP Indigo 12K HD Digital Press will offer "Print on Demand" & other customized solutions to many brands & new startups in Uttarakhand and adjoining states. Ekta Graphics and Printing Solutions has already been using HP Indigo printers for the past 5 years and are well known for bringing innovative photo printing solutions in the Indian photo market using HP's Indigo technology.
Speaking on the new business association, A Appadurai, Country Manager, HP Indigo & Pagewide Web Press, HP India market said, "Technology is evolving rapidly, and in the last 11 years, HP Indigo presses have revolutionized the photo industry completely, taking our products and its capabilities to the amazing photographers. Along with the finest photo labs in the country like Ekta Graphics, we have been able to transform the lives of the photographers by offering them world class photo printing solutions. Beyond technology, the unlimited possibilities and the newest range of sizes including 30×40 photobooks will create the next wave in the photo industry.
We really feel proud that by utilizing our HP Indigo HD printing services, our customers are contributing towards a sustainable future. We are thrilled to collaborate with Ekta Graphics and Printing Solutions in their journey to transform digitally. We hope their faith and investment in HP's devices helps them achieve the highest standard of print quality, sustainability and deliver an efficient service experience to their customers."
The HP Indigo delivers automation and workflow optimization tools to drive more output in a single shift. The HP Print OS is an effective tool to increase efficiency in the business workflow. It makes it easier for businesses to identify gaps and incorporate appropriate measures to ensure productivity while delivering highly customizable solutions. In addition, the HP Indigo HD press provides users with cost-effective and super-fast results by 3450 sheets per hour.