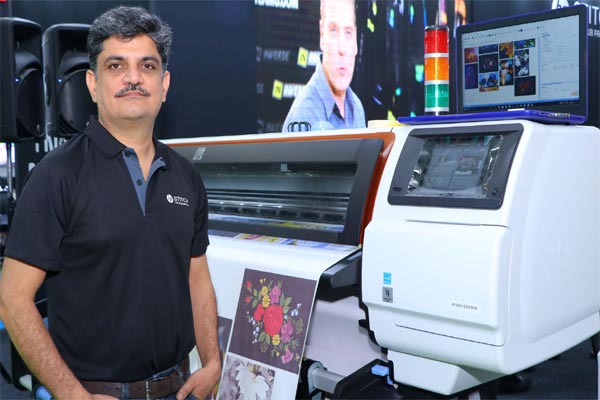 HP reinvents textile printing in India with HP Stitch S series
HP Inc announced a new portfolio of digital textile printers, HP Stitch S500 and HP Stitch S1000, to reinvent the textile printing industry in the country. These printers deliver fast, precise color-matching, along with efficient and simplified printing processes and are designed to accelerate commercial digital print adoption.
HP Stitch series printers are equipped with HP Smart Printing capabilities that can enable businesses to achieve better control of their print operations.  HP Smart Printing is powered by the cloud-based technology, applications and services designed to maximize uptime, provide exceptional line-of-sight and simplify production processes.
HP has partnered with leading companies in the dye-sub industry, from RIP vendors to thermoprocessing manufacturers, to provide customers with a holistic workflow solution that works seamlessly with HP Stitch.
Vitesh Sharma, Head of Sign and Graphics, HP Inc. India said, "The introduction of this break through innovation in the textile printing industry will enable businesses to increase their production at a relatively lower cost and time. The new HP Stitch printers will redefine the dye sublimation printing market and pave the way for more digital print transformations in the future."
HP Stitch S500 Printer
Designed specifically for high production sites, HP Stitch S500 Printer enables predictable dye sublimation color and produces less media waste for production environments. With symmetrical 2xCMYK printhead configuration and Optical Media Advance Sensor, this 64-inch printer allows for saturated and reliable one pass mode for true top speed. The cost saving printer saves up to 50 percent floor space with frontal media loading and a spindle-less system.
Key HP Stitch S500 Printer features include:
Automatically detect when a color is out of gamut and get the closest visual match with PANTONE emulation.
Big ink supplies, larger rolls, and HP's Tension-Sensing Winder allow unattended operations—even overnight, complete with HP Services and cloud fleet management tools.
Save 50% floor space with the first dye-sub printer with front media loading
HP Stitch S1000 Printer
The superwide dye sub production printing technology of HP Stitch S1000 produces high quality prints in 1.200 native dpi, deep black, and vivid colours. With the printing speeds up to 220 m²/hr, the device easily prints high density direct-to-fabric prints, with the Drop & Dry system.  HP Stitch S1000 printer offers easy operation with minimal manual intervention.
Key HP Stitch S1000 Printer features include:
Reliable image quality with the Smart Nozzle Compensation system and the latest Optical Media Advance Sensor
Maximise uptime with user-replaceable printheads, and preventive maintenance from HP Smart Services
Get accurate colours over time, even as environmental conditions change, with the built in spectrophotometer.
Pricing and Availability:
The HP Stitch S500 Printer is available from Rs 17 lacs onwards
The HP Stitch S1000 Printer is available from Rs 1.25 crore onwards