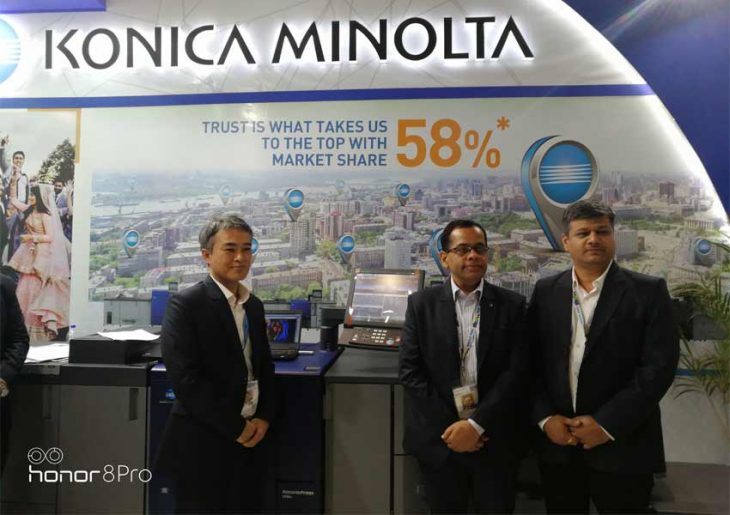 Konica Minolta Business Solutions attends Consumer Electronic Imaging Fair 2019
Konica Minolta Business Solutions has participated in the Consumer Electronic Imaging Fair (CEIF) 2019. Held at India Expo Mart in Noida between January 10 and January 12, 2019, the event witnessed the demonstration of two of the brand's most state-of-the-art offerings, the AccurioPress C83hc/C73hc and the MGI JETvarnish 3DS.
The AccurioPress C83hc/C73hc, on the other hand, enables high-capacity, high-speed production printing with an output of up to 81 ppm delivering superior colour reproduction, automated and real-time colour/registration adjustment, and excellent versatility. Both machines are designed to help print and printing businesses expand the scope and scale of their operations, enhance productivity, and maximise profitability by catering to new-age print jobs. The MGI JETvarnish 3DS with foil enhances documents to delivers visually stunning, high-quality digital documents with 3D or traditional flat spot UV coating and digital foil with capability of variable-data print. The best part is that the spot UV & Foil are digital and do not need any pre process.
Speaking about the participation at the event, Mr. Daisuke Mori, Managing Director – Konica Minolta Business Solutions India Pvt Ltd, said, "Digital, without a doubt, is the future of business. As a global domain leader, Konica Minolta has been at the forefront of pushing the limits of what digital technology can do as far as print and printing is concerned. The MGI JETvarnish 3DS and the AccurioPress C83hc/C73hc are testament to our commitment to constant innovation, and to introduce technological enhancements that drive substantial value addition for our customers."
"We are delighted to showcase these two machines at a prestigious industry forum like CEIF 2019 and are encouraged by the reception that we have received from the attendees here. Our long-term vision is to build an end-to-end ecosystem of hardware and software solutions that are designed to optimise productivity, operational flexibility, and profitability for print and printing businesses. Such industry events provide us the perfect podium to demonstrate our differentiation."