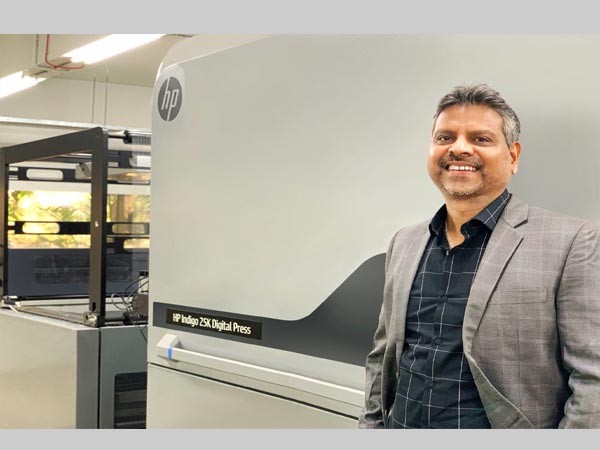 Trigon leads transformation of digital printing and packaging, installs Asia's first HP Indigo 25K
Taking a new leap in digital printing, Trigon Digital will be using the HP Indigo 25K to meet the growing flexible packaging demand. This is the first customer installation of the flagship HP Indigo 25K Digital Press across Asia. A leading Print & Packaging solutions provider with an 'all-digital' set-up, Trigon Digital has been addressing the needs of customers from across India, Middle East, Europe & South East Asia. The ultra-modern HP Indigo 25K Digital Press installation with a 30-inch printing width will allow Trigon Digital to venture into customized pouch, shrink sleeves, IML printing on a large scale. The HP Indigo 25K installation features an inline slitting option, which will enable Trigon Digital to print label media of up to 30-inch width & then slit it inline to smaller rolls for further finishing.
In a world where customers demand highly personalized solutions, the HP Indigo 25K Digital Press offers the agility to meet rapidly evolving customer needs, across all types of packaging requirements. With the HP Indigo technology, Trigon Digital will be able to support brand owners with innovative solutions in packaging while supporting them throughout the product development process – from prototype to marketing test samples to production and shelf. Trigon is a long-standing partner of HP, having invested in the HP Indigo 6900 press in 2018.
Speaking on the installation, Anil Namugade, Managing Director, Trigon Digital said, "We have been servicing our customers with print and packaging solutions since 2007. With the industry evolving and growing exponentially, we required a solution to add value to our business and support the increasing demand of small and medium quantity packaging runs with NO MOQ. Today, the package is the messenger, the brand and storefront, all integrated into one. With our new HP Indigo 25K, we are ready to bring the power of the digital transformation to label and flexible packaging. Furthermore, we are on a mission to transform our business, achieving the most exceptional  standard of print quality, sustainability, and quick service experience to our customers, and the installation of the HP Indigo 25K is an important step in that journey."
A Appadurai, Country Manager, HP Indigo, HP India said, "India is fast becoming a hub for startups & small brands, especially in Food & Beverage sector. It is crucial for brands and businesses to have high-quality packaging for their products to be placed on shelf for visibility. A high-quality printed package increases the brand value and gains trust from the consumers. Due to the nature of digital printing there is no MOQ concept with HP Indigo. Also plates or cylinders are not required to be made, so along with HP Indigo, Trigon can support such brands to launch their product in the market faster, digitally printed pouches can be turned around in as low as 5-7 days from the approval of artwork to physical pouches. With the first HP Indigo 25K installation in the region, Trigon Digital will be able to help its customers to get to market faster with their  innovative services and products."
HP is committed to providing safety in print packaging across a comprehensive  range of applications, including pharma and food packaging. HP Indigo inks meet FDA, EU & Swiss packaging regulations for well-defined conditions of use & are suitable for indirect contact applications. HP Indigo inks do not contain any UV curing substances or any photo initiators & meet the industry accepted definition of low migration inks. Apart from printing on standard flexible packaging media, HP Indigo can also print on both recyclable & compostable media from partner media vendors.