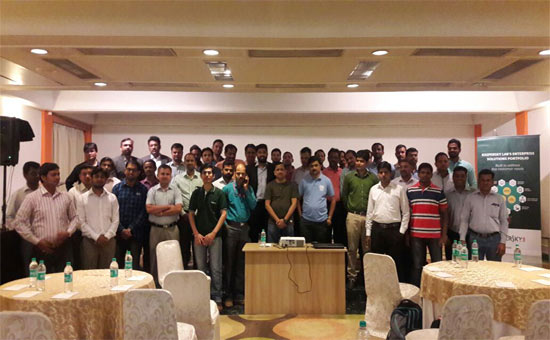 Kaspersky reaches out to its prospective partners and customers in Mumbai, Aurangabad pitstops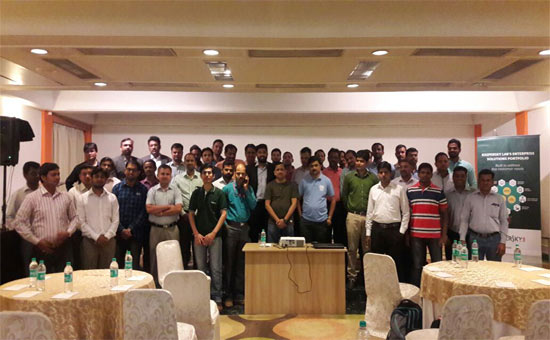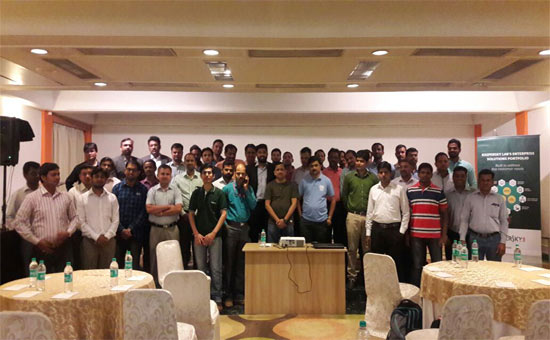 The cyber security market is one of the most fast-moving ones in the world. With technology changing by the minute, it takes a lot to stay ahead in the game and remain future-ready. Kaspersky Lab has maintained its position as one of the top cyber security brands in India by constantly innovating and staying closely in touch with its chain members. On March 17 and 18, it conducted two very successful pitstops that have defined the way Kaspersky Lab operates. It collaborated with SEA Infonet for a Partner Pitstop in Mumbai, and conducted a Customer Pitstop in Aurangabad with the support of SEA Infonet and in collaboration with its partner Expert Solutions India Pvt. Ltd
The Mumbai Partner Pitstop was conducted at the ITC Grand Maratha on 17th March. Over 35 attendees from 22 partner companies participated in a discussion spearheaded by Mr. Tahir Hassan – Regional Sales Manager, Kaspersky and Mr. Pratap Mondal – Entreprise Sales Manager – Kaspersky Lab. In the audience, were prospective partners of Kaspersky who were keenly looking forward to joining the family. Kaspersky's Endpoint Security solutions, Non-Endpoint offerings such as Security for Virtualization & Datacentre, Security Intelligence Services and Kaspersky Lab's other enterprise products, partner benefits, margins and roadmaps were discussed. The panel then took questions and helped everyone understand the program better.
In Aurangabad, the Customer Pitstop was held at Lemon Tree Hotel on March 18.  Mr. Ajaykumar Joshi – Director, Sales and Alliances, SEA Infonet led the discussions along with Kaspersky representatives. Over 45 prospective customers from 30 companies were in the audience, as Kaspersky's Endpoint and Non-Endpoint offerings were explained in great detail. This was followed by a technical demonstration of some of Kaspersky Lab's solutions, after which the house was thrown open to questions.
Mr. AltafHalde, MD – South Asia, Kaspersky Lab said "The biggest strength of the Kaspersky family is the robust channel of communication that we have between all partners. The pitstops in Mumbai and Aurangabad were organized to keep this fluency going. The objective of the Partner Pitstop was to meet prospective partners alongwith our existing ones to discuss our portfolio and partner benefit details. The Customer Pitstop helped us demonstrate our products to new prospects and in answering their questions. The attendance was great, as was the interaction. We look forward to welcoming more partners and customers into the Kaspersky fold!"
Mr. BiswajeetSaha, Director – SEA Infonet said, "Every year, we have great many inquiries from prospective partners to join the Kaspersky family. Instead of speaking to them individually, we prefer to have these Partner Pitstops where we can not only meet them together, but also helps our potential partners meet our current ones and also meet and hear from the Kaspersky lab team. The Mumbai Pitstop was extremely successful, with an impressive turnout. They understood our products and even had all their queries clarified. It greatly aided in keeping the communication simple, clear and effective between us and our partners."
Mr. Nitin Nalgirkar, Director- IT Infra Division, Expert Solutions India Pvt. Ltd. said, "Aurangabad is fast emerging as one of the most exciting places for us. The market penetration of cyber security products is increasing and there's a lot of interest from businesses of all sizes to get reliable security. The Pitstop helped us clear many doubts and even clarify some common misconceptions companies have about cyber security. The response was very positive and we are sure we will see a lot of them entrust us with their security solutions."
The brief Pitstops were followed by cocktail and dinner, when the discussions poured over. Kaspersky Lab and its partners were very excited at the close of the weekend, having reached out to yet another group of prospective partners and customers, continuing its steady and robust expansion in India.