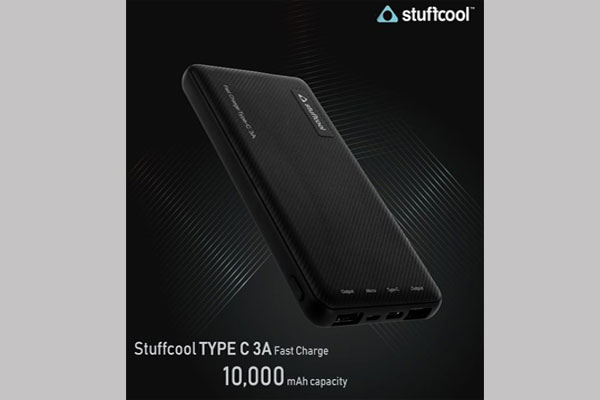 Stuffcool launches 10000 mAh power bank with Type-C 3A input/output and Type-C to C cable
Stuffcool have launched the most versatile power bank with Type-C 3A Fast Charge Input/Output. The Power Bank offers two standard Type-A USB ports (2.1A max), one Type-C port (3A fast charging) that can be used for both input/output and one Micro-USB port, which can only be used for charging the power bank itself. The Stuffcool 1062 is perhaps the only power bank available with real Type C 3A input/output. There may be other brand Type-C input/output power bank but their output is max 2.4A.
The Stuffcool 1062 power bank is unsurprisingly the lightest and most compact, its build quality and overall feel is really premium. The dotted textured body gives firm grip to hold the power bank. There are four LEDs that light up in white to indicate the current charge level and charging/ discharging of the power bank.
The Stuffcool power bank have 3A max output, which makes it your best bet if you want to use your power bank to fast charge your devices faster when using a Type-C to C cable like Stuffcool Minima Type-C to C which is perfectly designed for using with power bank
Stuffcool minima Type-C to C cable (3A Max)
Stuffcool has also launched minima Type-C to C cable (3A max) with 15cm of length to make sure that you charge your phone from power bank faster without any troubles. With this Type-C to C cable, you can fast charge your smartphone with type C input using the Type-C output port in Stuffcool power bank.
The price of the power bank is 2499 INR and minima C-C cable is 499 INR. Both of this products are available at an introductory offer price of 1999 INR and 399 INR respectively. The product carry's 6 months warranty and is available at PAN India leading retails stores including CROMA and online at stuffcool.com, amazon.in and flipkart.com.
Product Specifications:
Power bank
Battery capacity: 10000mAh/3.7V (37Wh)
Rated output: 6800mAh/5V (34Wh)
Output
Type-A x 2: 5V/2.1A
Type-C: 5V/3A
Input
Micro-USB: 5V/2A
Type-C: 5V/3A
Minima Type C – Type C cable
Length – 15 cm
3A fast charging cable