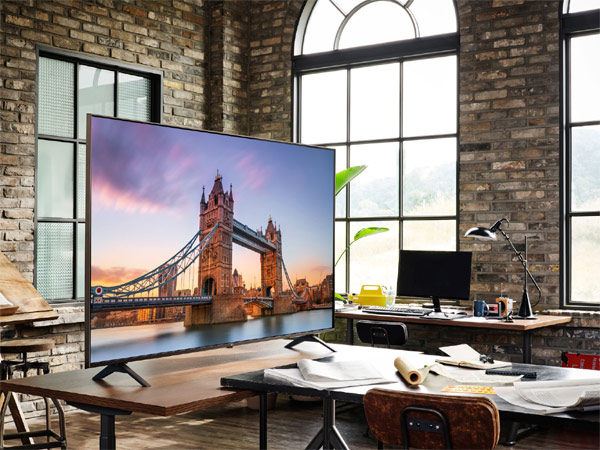 LG Unveils The 2021 TV Lineup In India- The Largest & Most Innovative So Far
LG Electronics, the world leader in OLED TVs, has announced the 2021 lineup of OLED, QNED, Nano Cell, and UHD TVs in India. The 2021 range of LG TVs is the largest amongst all the ranges of the past years. Raising the bar again in 2021 with new innovations from LG – Introducing the "OLED Evo" LG's best OLED ever, an India-specific Nano Cell TV series, the all new LG QNED series which has revolutionized the display of LCD TVs, and finally the upgraded LG UHD AI ThinQ TVs that are aesthetically & technologically far superior than ever before.
LG's 2021 OLED TVs boast self-lit panels that produce 33.2 million self-lit subpixels, wherein each pixel can literally create its own light and can turn on and off. Thus, one can enjoy the intense color, infinite contrast and richer, deeper blacks while watching TV. The latest LG OLED series, the OLED Evo produces more light per pixel and maintains characteristic of the OLED Panel with high contrast & clarity that helps in producing brighter and crisper images for an enthralling cinematic experience.
Available in three sizes, 139 cms (55), 164 cms (65) and 194 cms (77), the OLED Evo is LG's flagship TV of 2021 with its infinite looking screen display intended to be adorned on a wall. It is the key highlight of LG's OLED PRM and is highly distinguishable by its incredibly slim profile that allows it to hang flush with the wall like a work of art, complementing any home décor for an opulent appeal.
LG's flagship OLED technology combined with an 8K resolution is the pinnacle of the best-in-class TV viewing experience. The ultra-large OLED88Z1 (222 cms) comes in a sculpture design, sitting on a pedestal stand, exuding extravagance and class in every bit.
The most awaited LG OLED C1 series has added yet another screen size to its splendid range of TVs, available in 121 cms (48), 139 cms (55), 164 cms (65), 194 cms (77) and the newly introduced 210 cms (83) variant. LG OLED C1 is a stunning 4K series, a true minimalist's find and maybe a possible answer to all your interior design challenges. Just like G1, it comes packed with a powerful Alpha 9 Generation 4 Processor that delivers better contrast, deeper black & richer colors.
LG OLED B1 series, packed with all the features of Dolby Vision IQ & Atmos, is available in two screen sizes- 139 cms (55) and 164 cms (65) – and comes with a Generation 4 Alpha 7 Processor.
The whole new range of 4K NanoCell TVs are designed to deliver stunning picture quality and innovative design with artificial intelligence-enabled features that bring movies, sports and video games to life. Real 4K resolution is complemented by our own distinctive Nano technology, which utilizes nanoparticles to filter and refine color, removing impurities to deliver only pure and accurate colors. The result is a more vibrant, more realistic picture that will bring your content to life. Nano83, exclusively designed for India, comes with an Ultra Bright Panel, that delivers brighter images and with Local Dimming support users can get realistic picture quality taking the TV viewing experience to a whole new level.
LG has launched its range of QNED Mini LEDs, which is the ultimate innovation in LCD TVs. The pioneering display combines a Mini LED panel with Quantum Dot NanoCell Technology to deliver an all-new TV experience. This truly represents the dawn of a new era for LCD TVs. It will be available in both 8K & 4K resolution under the series QNED99 & QNED91 respectively.
An exciting addition for 2021, LG UHD AI ThinQ TVs exudes elegance. The TV features a NEW slimmer 3-Side Cinema Screen design combined with aesthetics that can elevate any interior. LG UHD TV combines 4K picture quality with an incredibly large screen to deliver an all-new level of immersion.
Commenting on the occasion, Gireesan Gopi, Business Head, Home Entertainment, LG Electronics India, said, "The 2021 range of televisions by LG is loaded with powerful new features, making it the perfect choice for watching sports, playing video games, and binge watching your favorite show or movie. This year, LG has brought about some remarkable innovations in the design of not just in our televisions but also in our user interface tools as new webOS 6.0. The lineup of this year features OLED Evo, which we at LG proudly describe as 'our best OLED ever'. The latest lineup expands on our already vast range of Smart TVs available for consumers across price points."
"We have improved and designed our products assessing the need of our Indian consumers. Our latest NanoCell/UHD category comes with features like Local Dimming, Ultra Bright Panel, AI Picture/Sound, and Gaming support along with a new and more appealing design that has been added to meet the demands of our Indian audience. We are confident that this new lineup will be loved by our customers.", he added.
LG's range of 2021 OLED TVs enhances the home entertainment experience through improved and brand-new features. Featuring Dolby Vision IQ, Dolby Atmos® and Auto Volume Leveling, this year's TVs set a new benchmark for sound & picture quality in home entertainment category. Dolby Vision IQ analyses content and genre and applies picture settings in real-time. Whereas Dolby Atmos, with its multi-dimensional surround sound, brings the world to you. Auto Volume Leveling keeps consistent voice levels even when watching different apps and channels.
What's more, LG OLED TVs provide a more comfortable way to watch for longer. They have been certified as low-blue light, flicker-free, and discomfort glare-free displays by international agencies TÜV Rheinland (TUV) and Underwriter Laboratories (UL). LG OLED TVs are also the first panels from any kind of TV to receive the Eyesafe® certification developed by TUV-Eyesafe®. Additionally, LG OLED TVs are officially eco-friendly. When compared with LED TVs, they are safer because they don't use backlights, they're made with less plastic, use fewer hazardous materials, and have a lower risk of producing indoor air pollutants.
LG OLED TVs, as compared to an ordinary screen, can really accelerate the gaming experience to unreal levels. In order to match the changing frame rates throughout the game, an OLED TV supports Variable Refresh Rate and Auto Low Latency Mode, and is certified as HDMI 2.1. This helps in reducing motion blur and ghosting to barely noticeable levels. It is also the world's first TV to support the incredible Dolby Vision® HDR at 4K 120 FPS for gaming, and has an extremely low input lag with an incredible 1ms response time that highly benefits the gamer by responding to their every move instantly on screen. LG partnered with brands like NVIDIA & AMD to make LG OLED TVs the only G-SYNC and FreeSync™ Premium certified TVs. Also, recently LG joined forces with Xbox to unleash the full potential of its next-gen gaming and becoming the official TV partner of the Xbox Series X console.
Delivering the best-in-class user experience, LG's newest TVs are now more convenient than ever thanks to webOS 6.0. The latest version of the intuitive smart TV platform features built-in Google Assistant & Amazon Alexa, offering access to many of the most popular streaming apps. Experience the wonders of AI – artificial intelligence as only an LG TV comes with AI ThinQ, an innovative and intelligent design to control your TV and appliances in one's home. It runs on voice commands and opens up new possibilities for comfort and luxury. The home screen has been redesigned to show everything worth watching, all in one place. Enjoy personalized content recommendations based on their watch history, quick access to a variety of content, and easier control of connected devices.
LG's New Magic Remote comes with an ergonomic design that's easy to hold and a point and scroll system that allows faster searching. The remote comes with dedicated hot keys for popular content and AI service providers, allowing users to jump to their favorite services with just a quick push of a button.
Featured in LG's Nano Cell & UHD TVs, Quad Core Processor 4K removes video noise and creates more vibrant colour and contrast. Low resolution images are upscaled and reproduced at close to 4K quality. Packed with AI capabilities, the processor also knows when, where, and how to improve the sound, creating virtual surround sound for a more immersive and cinematic experience. A light sensor measures the surrounding ambient light, then the processor finely adjusts tone mapping for optimal screen brightness.
Nano Cell 4K and UHD TV features LG's own dynamic range technology, HDR 10 Pro, which adjusts brightness to enhance colour, reveals every tiny detail, and brings lifelike clarity to every image. LG's UHD TV provides vibrant colour and accurate detail with Active HDR. Compatible with multiple streaming apps, one can now witness the magic come alive on Netflix, Prime Video, Disney+ Hotstar, Apple TV, SonyLIV, etc.
Improving on the premium gaming experience LG TVs have become known for, the new Game Optimizer automatically adjusts picture settings, optimizing graphics and visibility, to deliver a better gaming experience no matter what type of game you are playing. From the darkest caves to the brightest new worlds, LG TVs lights up your game with vivid colors. One can manage all the settings in one place with modes optimized for various game genres: FPS, RPG, and RTS. Control contrast with black & white stabilization for better visibility. HGiG in LG TV recognizes TV performance and picture quality then tunes HDR graphics to provide the ultimate HDR gaming experience.
Sports fans will find it easier than ever to keep up with their favorite leagues and teams on LG TV with Sports Alert, while OLED Motion Pro displays every exhilarating moment and key play in incredible clarity. Now India's favorite IPL teams are also updated in Sports Alert feature. With Bluetooth Surround Ready, LG TVs can wirelessly connect to two Bluetooth speakers to deliver powerful, nuanced audio that faithfully recreates every sound on the field giving you the feeling of being at the stadium. 
Price and Availability:
The LG OLED TVs in 8K & 4K Resolution are available in sizes- 121 cms, 139 cms, 164 cms, 194 cms, 210 cms and 223 cms at a price starting from INR 1,44,990. The LG QNED series, in 8K & 4K Resolution, is available in 164, 194 and 218 cm, with a starting range of INR 2,66,990. The LG Nanocell TVs (4K Resolution) has been designed in 108, 126, 139, 164, 189 and 218 cm and will start from INR 63,990. The 4K UHD AI ThinQ models will be available in sizes 108, 126, 139, 151, 164, 177 and 189 cms starting from INR 50,990.